My Kansas City: Interview with SNL's Heidi Gardner
---
Interview by Diana Lambdin Meyer
When Kansas City native Heidi Gardner was a senior at Notre Dame de Sion High School, she was voted "Most Likely to Become a Cast Member on SNL." In 2017, that unlikely prophecy became reality when Gardner joined the Saturday Night Live cast for its 43rd season.
"I guess I owe my classmates at Sion for that vote of confidence early in my career," says Gardner.
Gardner admits that she was always doing sketches for school talent shows and regularly goofed around with her brothers. But Gardner gives credit to growing up in Westport and working part-time at the now-closed Tivoli Theater for setting the tone in her life.
"Westport at the time was a dose of the creative side of Kansas City," she says of the historic entertainment district. "Just walking down the street, I would encounter a lot of people who were just a little left of center."
The arthouse theater was renowned for showing independent and foreign films, many of which incorporated off-beat comedy. Gardner did a bit of everything, from selling tickets to making popcorn, and loved being able to watch the eclectic selection of movies.
Of course, the greatest local influence is always barbecue, something that Gardner admits she didn't truly appreciate until she became an adult and left home.
Her nod for best burnt ends in the city goes to LC's Bar-B-Q near the Truman Sports Complex. Gardner's grandmother lives nearby, so it was a part of her childhood. Now, every trip home from New York includes several orders of the KC delicacy.
"However, I think Gates' sauce is the best," she clarifies. "It's such a classic, signature sauce that nobody else can touch."
Despite her praise for Gates Bar-B-Q, when fellow Kansas Citian Paul Rudd hosted the final episode of SNL's 43rd season, Gardner gave him a big bottle of sauce from the Jones Sisters in KCK. At the time of our conversation, Gardner had not yet visited Jones Bar-B-Q in person, but had it high on her radar for a coming visit.
"The Jones Sisters are so hot," Gardner says of the women who became international celebrities—and their sauce a best-selling sensation—after an appearance on Queer Eye.
Gardner also recognizes how buzzy KC is as a travel destination.
"When I first moved to L.A., nobody really knew much about Kansas City, and sometimes we didn't even talk about it," she says. "But now, everyone is talking about Kansas City. It's like they come for a day or two for a wedding or a meeting or something and then they really want to come back."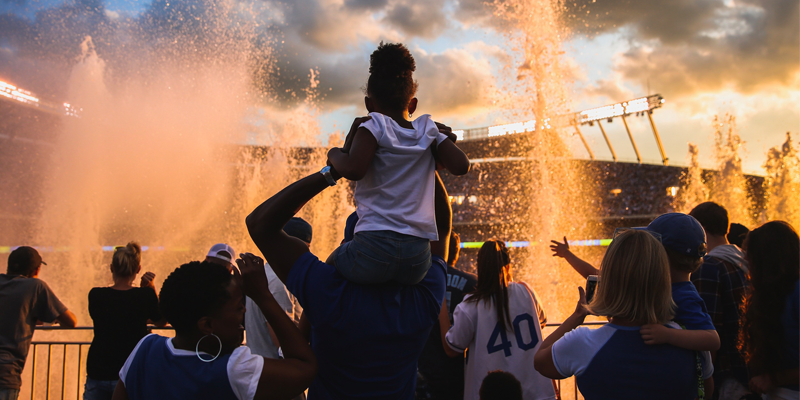 Although she left the Midwest in 2004, Gardner still carries her roots with her no matter where she goes. Her cell still rings with an 816 area code. Having traveled across the country, she still believes that Jalapenos Brookside has the best chips and salsa anywhere in the world. And without question, Gardner is a big Chiefs and Royals fan.
"Some of my favorite memories as a kid were sitting at Mammo and Bampo's house, eating Dilly Bars from the Dairy Queen nearby," Gardner says of her time spent with her grandparents. "The windows would be open with a warm summer breeze and we would be watching a Royals game. It was the best."
Gardner stepped onto the field at The K for the first time when she joined fellow Kansas Citians Jason Sudeikis, Paul Rudd, Rob Riggle and Eric Stonestreet for Big Slick, their annual summer fundraiser for Children's Mercy Hospital.
"They let me choose my uniform number, so I chose 16," she says of the event, which took place June 2019. "It was Bo Jackson's number when he played for the Royals and I thought he was so great."
In addition to her work on SNL, Gardner is working to build her theatrical credit resume. When asked about the possibility of performing at Starlight Theatre sometime, she simply responded,
"Wouldn't that be awesome?"
Yes, it would, Heidi. Yes, it would.