Hiking in and Around Kansas City
---
There's more to Kansas City than high-tech streetcars, pre-Prohibition cocktail bars and world-renowned art museums. You'll find that hiking paths and trails await all throughout the metro, ready to be explored at a moment's notice. North and south, east to west, a clear blue sky looms overhead while your next adventure extends further into the wilderness. Nature beckons.
Here are some great places for hiking in and around Kansas City:
Timeless Trail Traditions
One of the largest urban parks in the country, Swope Park is a timeless Kansas City tradition located just 17 minutes southeast of Downtown KC.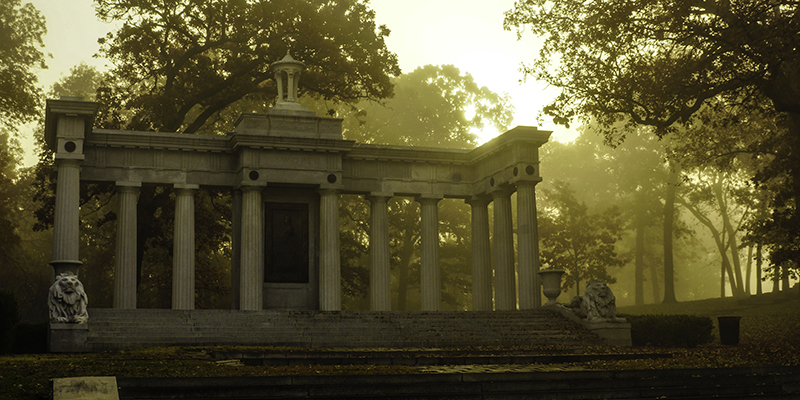 Limestone bluffs and bike-carved trails populate this 1,805-acre region—originally purchased in 1896—where you'll find ambitious landscapes along both the Swope Park Mountain Bike Trail and Fox Hollow Trail. The latter can be found in the valley just beyond Lakeside Nature Center and boasts a wide array of colorful wetland wildlife. 
At One with Nature
Old bridges, stone embankments and burbling streams populate the Ernie Miller Park and Nature Center, a wildlife getaway in Olathe. The Johnson County park features a nice mix of flat, straight trails and ones with more elevated terrain. Depending on where you venture, you'll see prairies, creeks and woods, all in the same peaceful, 116-acre area. Plus, with an animal education center and a passionate, knowledgeable staff, this nature refuge is the ideal outdoor experience for all ages.
Spend some time at Cedar Lake Park in Olathe to glimpse an area waterfall that's the perfect subject for amateur and professional photographers alike. Also check out Mill Creek Streamway Park, a popular, 17-mile stretch through Shawnee, Lenexa and ending in Olathe. 
South KC Botanical Hiking
While parts of the Overland Park Arboretum and Botanical Gardens may be dedicated to the preservation and restoration of eight natural ecosystems, the five miles of paved and woodchip paths are an Overland Park favorite when it comes to hiking in the metro. Wind your way through the botanical gardens at any time of the year for beautiful sights.
Freshwater Sights and Sounds
Five trails of varying length and design can be found in Fleming Park in Jackson County, an area that sees 1.3 million visitors each year, making it one of the busiest parks in the area. Located in the center of the 7,809-acre land is Lake Jacomo, where water sports, fishing and more are common.
But the hiking here is just as good. The trails are scattered along the lake's edge, each revealing their own natural secrets, while the Clermont Nature Trail is the perfect accompaniment to a day at Missouri Town 1855. Or, swing by the Little Blue Trace Trail, an oft-traveled route that follows the Little Blue River for 15 miles.  
Waterfalls in The Northland
Wildlife is abundant at Parkville Nature Sanctuary, located less than 20 minutes north of Downtown KC. Three trails populate this popular hiking destination, each different in makeup and accessibility. Old Kate Trail, the one that receives the most foot traffic, features natural waterfalls that you'd be ashamed not to photograph.
Meanwhile, the White Tail Trail gives hikers a bit more of a challenge with rocky ridges and steeper inclines. Then there's the Bluebird Trail, the mildest of the three, which includes an ADA-accessible trail spur to accommodate a wider variety of hikers.