Westside
A historically diverse, multicultural area with Latino and Mexican-American influences, Westside brims with metro gems, from local wares to restaurants defining farm-to-table. There's food and fare so good you'll want to unfold a chair to guarantee a slice of the action. In fact, many do just that.
Where to Shop
A metaphor for the Westside neighborhood itself, Westside Storey is a little shop where modern and vintage styles live side-by-side. This eclectic mix of local artists' wares and antique items is nestled among the community's popular food spots, so you can browse while waiting for your table, then come back again when sated.
Places to Eat
This long and lean corridor, technically under one square mile, packs in more flavor than a neighborhood twice its size. The food offerings gathered around 17th and Summit include everything from creative bites and cocktails at The Westside Local to Blue Bird Bistro's unpretentious but delicate menu, all rounded out by sweet and savory bites at Chez Elle Creperie.
Caffeinate at Goat Hill Coffee & Soda, a local purveyor of classic espresso drinks and hand-crafted sodas using Little Freshie flavors, such as blackberry lavender and spicy ginger fizz. For authentic Mexican eats, head up the street to Los Alamos Market Y Cocina, an area favorite with a friendly staff. 
Souvenir Stop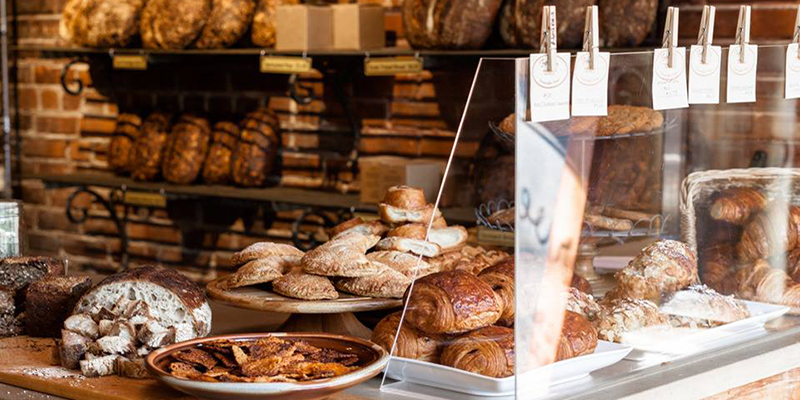 You won't be able to pack it, but a fresh loaf from Fervere, 1702 Summit, is the immediately edible souvenir that you'll want to snag. In the summer months, watch the artisan bakery's Facebook page for drool-inducing teasers for Cheese Slipper Saturday. This is the evening ritual that gets locals lining up and setting out chairs for a bite. In all the other months the motto is the same… when the bread is gone, it's gone. Of course, you'll always have the Instagram brag snapshot to prove you were there.
Interactive Map
Discover more of this neighborhood and the rest of Kansas City with our interactive map
Explore City