Kansas City is the Barbecue Capital of the World
With more than 100 outstanding barbecue restaurants, KC is good to the bone
Since the early 1900s, the words "Kansas City" and "barbecue" have been synonymous. Today, barbecue still stands as the city's signature cuisine. So much so, that it attracts people from all over the world who just have to see and taste it for themselves.
MEATY ROOTS
Kansas City's barbecue craze has been traced back to Henry Perry, who in the early '20s started barbecuing in an outdoor pit adjacent to his streetcar barn; serving the slabs of his labor wrapped in newspaper. Perry's 'cue became quite popular, and it wasn't long before fans began copying his technique and style to create their own unique barbecue recipes and offerings.
The secondary wave of barbecue "founders" were the families of Bryant, Gates, Boyd, Harris and Thompson. They were later joined by large numbers of pitmasters migrating here from the Southern states in search of work in this exciting, major stockyard/meat packing city. Together their distinctive tastes, talents and flair have created an unprecedented, eclectic barbecue culture recognized on a global scale.
Ardie Davis, author/co-author of nine books about barbecue and founder of the American Royal International Barbecue Sauce, Rub & Baste Contest, says it was a match made in heaven.
"The abundance of meat and hardwood here, especially oak and hickory, was a perfect match for the pit know-how they brought with them," Davis says. "Our street corners sported hundreds, if not thousands, of weekend barbecue vendors, and some eventually went indoors full-time with a barbecue restaurant."
Kansas City barbecue enthusiasts can satisfy their cravings at more than 100 mouth-watering barbecue restaurants dotted around the metro area. From short and long-end pork ribs, to lamb ribs, brisket, beef burnt ends, pork shoulder, chicken, ham, rib tips and even mutton, you'll find something to tickle your barbecue fancy.
LOCAL FAVORITES
Folks here are profoundly passionate about their top barbecue picks, and with so many great places it's hard to choose which to experience first. But rest assured that the meaty goodness—traditionally slow smoked for up to 18 hours—served everywhere from small mom 'n' pop joints, to neighborhood gems and large local chains, will leave you licking your lips for more.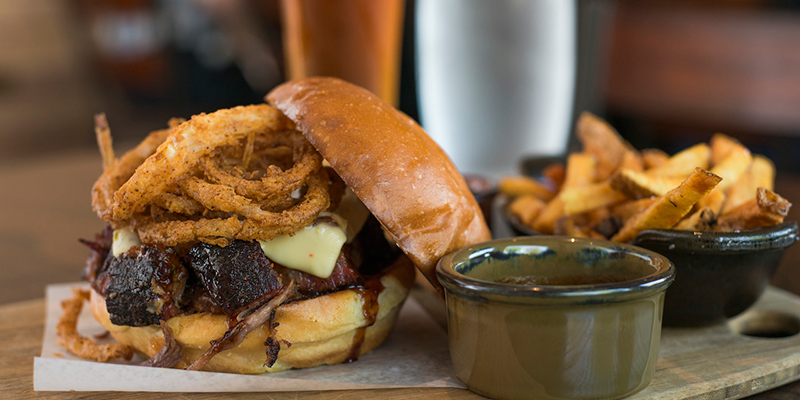 Among them are Gates and Sons, Joe's Kansas City Bar-B-Que and Smokehouse. Then there's Arthur Bryant's, BB's Lawnside, Hayward's Pit and Brobeck's. And let's not forget about Fiorella's Jack Stack, R.J.'s, Rosedale, LC's and Danny Edwards (of course, just to name a few!) 
Many of these city faves are members of the Kansas City Barbeque Society. With more than 8,000 members—pitmasters, industry suppliers, restaurateurs, competitors and others—from all 50 states, Canada, England and other countries, it is the world's largest organization of barbecue and grilling enthusiasts.
Beyond the usual barbecue fare, have you tried shrimp and grits topped with pulled pork? How about burnt ends soft tacos, or a mixed meat sandwich with barbecue beef, ham, turkey, pulled pork, Italian sausage and burnt ends? You'll also find burnt end hash with pork or brisket burnt ends, and Sloppy Joes made with chopped beef, ham and pork. And don't worry Vegans and Vegetarians, both FüD and Char Bar have a delicious, meatless barbecue sandwich with jackfruit on their menus.
BARBECUE FESTIVALS AND COMPETITIONS
Checking out amazing barbecue joints isn't the only thing on people's plates here, as Kansas City is also known for its annual barbecue competitions.
Each weekend from early spring through fall these heated (pun intended) competitions offer barbecue lovers an up-close and personal look at what it takes to make it to the top of the heap. Among them are the NKC MO State Championship BBQ (March), the Great Lenexa BBQ Battle (June), the Kansas City Kosher BBQ Competition and Festival (August) and the Sam's Club National BBQ Tour (September). But the granddaddy of them all is the American Royal World Series of Barbecue. Recognized as the biggest barbecue contest and celebration in the world, the two-week event (September/October) features more than 500 barbecue teams from all over the world and is attended by thousands.
What impresses Davis the most about today's barbecue culture, compared to back in the day, is the immense growth in numbers and popularity. "I remember when we thought 300 competition teams was a big deal," he says. "Now we're looking at thousands of competitors and restaurants nationwide."
With such large numbers, it isn't as easy to capture the "family reunion" spirit when events were smaller, Davis notes. But it is still there.
"Barbecue stirs something primal in us," he says. "In Kansas City, we have great food and friendly people. That's why the culture has grown and is still growing."
So no matter how you cook or slice it up, Kansas City is deeply rooted in the global barbecue consciousness. And there's nowhere else on earth that offers such a unique, diverse, and delicious love of barbecue that draws folks from all over the world.