As the United States began to grow west, settlers flocked to Kansas City for space, land and a new life. At the same time, these settlers started the framework for the diverse community that Kansas City has grown to become today.
The cultural diversity that resides in this metropolitan area includes African, African American, Asian, Latino, Italian, Irish, German, Native American, Slavic, Mediterranean and Middle Eastern. This rich ethnic fabric of Kansas City continues to grow and prosper.
The legacy of these communities is celebrated at attractions throughout the city. For starters, the Negro Leagues were formed in Kansas City and are memorialized at the Negro Leagues Baseball Museum. The Filipino Cultural Center houses an exhibition space and education facility for the Filipino-American community. The Latino Cultural Arts Division of Mattie Rhodes constitutes an art gallery highlighting local and national Latino artists, and well as an art center. And the Line Creek Archeological Museum houses artifacts from six prehistoric Native American cultures.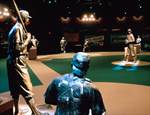 For visitors, Kansas City's ethnic communities have most obviously impacted restaurant choices.Southwest Boulevard andIndependence Avenue offer a large amount of Mexican restaurants. Argentinean fare can be found at restaurants such as Piropos and Em Shamas. Garozzo's Ristorante is famous for its Italian dish, chicken spedini. Sample the Cajun and Creole creations of Jazz, a Louisiana Kitchen. Discover fine Chinese cuisine at Bo Lings. Try the French cuisine at Le Fou Frog. Or, try the Middle Eastern flavors of Jerusalem Café. You can also choose Greek, Korean, Ethiopian, Indian, Thai, Vietnamese … Kansas City's culinary options seem endless!
Few communities put on as many celebrations as Kansas City, and the city's ethnic festivals tend to be among the most popular. The Ethnic Enrichment Festival, held in Swope Park each August, showcases food and culture from 66 participating countries. Kansas City Irish Fest has grown to be one of the largest Irish festivals in the country. And Rhythm & Ribs 18th & Vine Jazz and Blues festival celebrates the city's jazz and barbecue roots. The area also holds significant festivals such as the Greek, Italian, Indian, Juneteenth, Hispanic, Asian and Jewish festivals, in addition to many others.