Everything You Need to Know About Spring in Kansas City
Due to recent public health concerns, some area events listed on this page have been canceled or otherwise affected. Please confirm these details directly with event organizers before proceeding with plans. Additional resources related to COVID-19 can be found here.
Flowers are in bloom and the weather is warm. Between a brisk morning hike in the wilderness and an afternoon on the patio with a cold drink in your hands, your days are filled with heading from one adventure to the next, or simply doing nothing at all—and loving every minute of it. It's springtime in KC, a time for a renewed appreciation of everything that makes the city great, and experiencing all that's new in the Paris of the Plains.
Here's everything you need to know about spring in Kansas City:
Fresh Air for All
While a booming metropolis, KC is nestled conveniently near a multitude of outdoor landscapes dying to be explored. Go hiking with family or friends, or take a trip by yourself for some much needed "you-time." The lush, rolling hills and windswept meadows of Powell Gardens beckon visitors to discover the attraction's displays. In the city, you'll find Loose Park just south of the Country Club Plaza, perfect for a picnic or few hours of fresh air.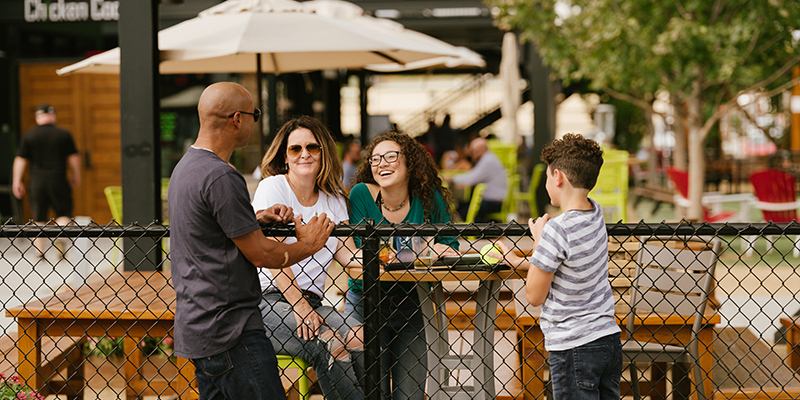 Travel north to North Kansas City for a wide assortment of urban nature areas and dog parks. While you're there, grab a paddle and hit the courts at Chicken N Pickle, a hybrid, chef-driven restaurant/entertainment venue. Speaking of outdoor hangs, countless bars and restaurants around the metro accommodate patio dwellers during springtime weather.
Check out Harry's Bar and Tables in Westport for casual evenings, Brewery Emperial in the Crossroads Arts District for beer brewed in-house, Café Trio off The Plaza for stellar views and Bristol Seafood + Steak + Social in the Power & Light District for upscale bites. 
Springtime Renewal
The arrival of warmer temperatures also marks the return of March basketball, when KC welcomes dozens of games and kicks off one of the most exciting times of the year.
Welcome the boys in blue back to the ballpark as the Kansas City Royals make their return to Kauffman Stadium each spring for the start of baseball season.
Sporting Kansas City hits the pitch again in May, and with an atmosphere like the one at Children's Mercy Park, you'll not want to miss it.