Pizza in Kansas City is an all-encompassing array of flavors, toppings, crusts and preparations. For every decadent, late-night slice there's a lighter, Neapolitan-style pie available all throughout the day.
Get to know some of Kansas City's most popular pizza places:
Traditional Pizza Parlors
KC's classic-style pizza parlors are old-school joints that dish out pies for delivery or dining in.
One of the most popular places for pizza is Minsky's, which has been in operation for nearly 40 years and operates more than 15 locations throughout the metro.
Another bustling neighborhood spot is Waldo Pizza, known for its family friendly appeal, while aptly named d'Bronx specializes in New York-style pies.
Neapolitan Specialties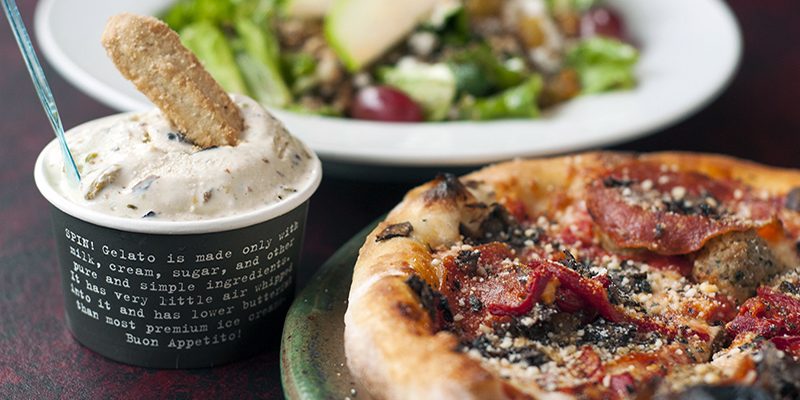 The strict standards that determine Neapolitan pizza include stone ovens, high heat and short cook times, among other more specific rules. The attention to detail results in a soft and light end product, proving the perfect vehicle for veggies, greens and various sliced Italian meats.
Kid-friendly and KC-based Spin! Neapolitan Pizza touts locations throughout the metro (including Crown Center and Overland Park), plus local beers and drinks on tap for adults of age.
Meanwhile, Il Lazzarone is a patio destination nestled in the lively River Market neighborhood and 1889 Pizza Napoletana pays tribute to pizza's Italian roots with a solid stable of unique combinations.
Late-Night Cravings
Because sometimes you need a slice after a long night of revelry.
Embedded in the Power & Light District's KC Live! Block is Pizza Bar, which closes at 3 a.m., making it the perfect conclusion to an evening out.
At arcade bar Up-Down, gamers and craft beer lovers alike take breaks in between pinball sessions to snack on mondo slices of mac & cheese and Cajun chicken pies, among other more familiar styles.
In Westport, one of Kansas City's hottest nightlife districts, Joe's Pizza Buy the Slice keeps bar-goers supplied with stone oven-baked slices right next to local legend Kelly's Westport Inn.
Funky Joints
Known for its countless TV appearances, Grinders Pizza combines local art, live music and seemingly ridiculous pizzas (think ones topped with tater tots) into one of KC's most unique dining establishments.
The Milwaukee Delicatessen Company showcases an uncommon space: the popular hangout resides in a former German deli that first opened Downtown in 1900.

instagram.com/buffalostatepizzaxr
Riding solo or craving something all for yourself, get giant slices at Buffalo State, available in the Crossroads and Overland Park.
Regional Favorites
Have it your way at Topp'd, a build-your-own fast casual pizza place in the Lenexa Public Market.
Open since 1969, Old Shawnee Pizza is anything but dated. Count on ingredients such as ghost pepper cheese, house-smoked pulled pork and spicy peanut sauce for an atypical twist.
Columbus Park's Caddy Shack Pizza is an old-school gathering place for those who love thin crust pies and patio hangs.
Standard crust or gluten-free, craft beer haven Martin City Brewing Company boasts a pizza menu featuring diverse flavors for everyone—and a neighborly vibe perfect for all ages.