Hidden Gems in Kansas City
Hidden gems, with their authentic atmospheres and unexpected experiences, appeal to our inner sense of adventure. Tenured visitors, tried-and-true locals and first-timers will undoubtedly all agree that the off-the-beaten-path destinations in KC showcase a unique, intimate side of the City of Fountains unlike anywhere else.
Entertainment
Mutual Musicians Foundation: The Foundation has been an institution in the Kansas City jazz scene for more than 100 years. Swing by to enjoy a late-night jam session that runs into the wee hours of the morning.
Knuckleheads Saloon: Head across the tracks to the East Bottoms, where you'll find this rough-and-tumble music venue that regularly hosts blues, country and rock acts on outdoor and indoor stages.
Art Alley: No visit to Art Alley is the same thanks to the eclectic collection of wall-to-wall graffiti art, each piece an impermanent addition to the ever-changing canvas.
The Rino: North Kansas City's resident live music venue is connected to hip hotspot Colony KC, where you'll find solid tunes and coffee for a nearly unbeatable combo.
The Ship: The West Bottoms comes to life at night at The Ship, a nautical-styled speakeasy that touts a soulful jukebox and unexpected collection of music acts that roll through several nights a week.
Prospero's Books: Bibliophiles and bookworms love wandering through stacks and stacks of rare and used titles in this iconic shop on West 39th Street.
Food & Drink
Splitlog Coffee Co.: A quick jaunt to KCK's Strawberry Hill neighborhood takes you to this quaint café known for its warm, sunny environment and rotating single origin roasts.
Manifesto: While this speakeasy can easily be identified as the founder of KC's cocktail renaissance, it remains as innovative—and under-the-radar—as ever thanks to its undeniably understated cool.
Plowboys Barbecue: Great barbecue is hiding in plain sight at Plowboys. It's everything you want from KC 'cue—smoky deliciousness—without any fuss, and it's located on the KC Streetcar line adjacent to the Power & Light District.
The Antler Room: The Antler Room is one of the buzziest restaurants in the city. Tucked away in charming Union Hill, sample Mediterranean small plates during date nights and special occasions to really feel at home.
Brookside Poultry Co.: This casual hangout is nestled in the cozy Brookside region—and touts dang good fried chicken that draws big crowds from around the neighborhood.
Swordfish Tom's: Disconnect from the world around you and connect to those in front of you at this subterranean speakeasy. Reserve this low-lit cocktail experience for intimate occasions.
Destinations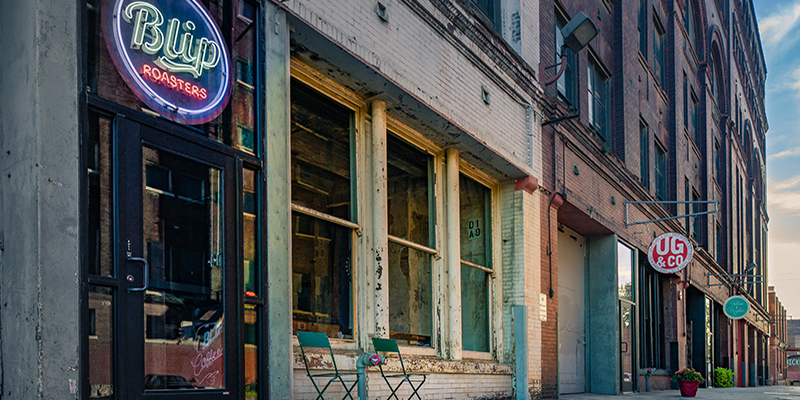 With its diverse blend of culture, food and attractions, Kansas City extends literally and figuratively into the clouds and far beneath the earth's surface, uncovering treasures both unique and inspiring in the same breath.
KC's cocktail scene is supremely cool and infinitely creative, which, not coincidentally, are two ingredients essential to any of the drinks these places serve.
Three Stop Hop is a series from Recommended Daily and Visit KC that lets you experience a neighborhood or corner of the city in three unique stops. Today, take a trip through Kansas City's historic Stockyards District for a few drinks and diversions in an irresistibly charming setting.
There's more to see in KC