Everything You Need to Know About First Weekends in the West Bottoms
Historic brick buildings tower overhead as shoppers hustle between vintage stores in search of their next great discovery. It's another First Weekend in the West Bottoms, which means that many of the most prominent and popular antique dealers open their shops to reveal their thrifty picks to the masses.
Explore
Eclectic is just the beginning in this historic neighborhood for antique shoppers and urban explorers alike. The West Bottoms offers an excellent selection of vintage stores and local shopping, as well as alluring bars and restaurants. Spend a few hours here and you'll see that the great discoveries never end.
Things to Do
Recognized in recent history for its recurring First Weekends celebrations, the West Bottoms area has grown to offer an array of attractions all throughout the month and at every time of day. Make a plan to shop, dine, drink and celebrate in stellar fashion during your next visit to the distinctive district.
Every corner of the West Bottoms is certain to entertain. A relaxed outdoor venue, Lemonade Park is the perfect place to embrace the neighborhood's charm and catch a live show. For an equally inviting neighborhood haunt, head to 9th & State for ping pong, drinks, live music and dancing.
If you're looking for libations, don't miss out on an impossibly smooth Old Fashioned at West Bottoms Whiskey Co., served in a rustic space that draws on the area's industrial past. Swing by Stockyards Brewing Co. to sample a West Bottoms take on Kansas City's booming craft beer scene.
Treat your taste buds to a tour of KC's wine scene with a tasting at Amigoni Urban Winery or check out the schedule of live music performances to pair with your pour at Fountain City Winery.
For something retro, check out The Ship, a classic cocktail bar that hosts live jazz and soul performances on a regular basis.
During the autumn months, thrill seekers will find no better destination. One of the nation's premier haunted house districts, the West Bottoms is home to Edge of Hell and The Beast, two of the spookiest adventures in town (and Halloween traditions since 1975 and 1991, respectively). Macabre Cinema offers another terrifying seasonal journey, while Full Moon Escape provides a chilling escape room experience all year long.
Visit Hy-Vee Arena—home of the 1988 Final Four—for everything from basketball and volleyball to pickleball in a totally renovated, state-of-the-art facility. KC Crew hosts leagues and regular pickup events. Next door is the American Royal Complex, once the site of the country's second-largest stockyards and now a facility that's home to livestock shows, rodeos and other events that serve as a reminder of KC's Western heritage and flavor.
Where to Shop
Part of the West Bottoms experience is being there and exploring it yourself. And there's plenty to be discovered, with new retail options providing fresh local flare just steps away from storied antique shops. The 12th Street Post aggregates dozens of local artists and vendors under one roof, so you can browse everything from plants and candles to jewelry and accessories with ease. 
Fetch reliably offers a vast assortment of home goods with excellent quality and biting wit, while Hammerpress is known for some of Kansas City's favorite greeting cards and printed items.
Of course, First Weekends remain a neighborhood staple as antique sellers open their shop doors for the masses on a monthly basis. And whether you show up in search of a specific item or with no expectations at all, you're sure to find artifacts from generations past at antique stores such as Good Ju Ju. Open only the first Friday and Saturday of each month, Good Ju Ju has been recognized multiple times as KC's best antique and vintage store.
If your schedule doesn't bring you to the West Bottoms during the first weekend of the month, it doesn't mean you'll be left unable to snag a steal from the past. Many vintage storefronts such as Serendipity, Stuffology, Nook and Cranny and the Robin's Nest are open every weekend.
Places to Eat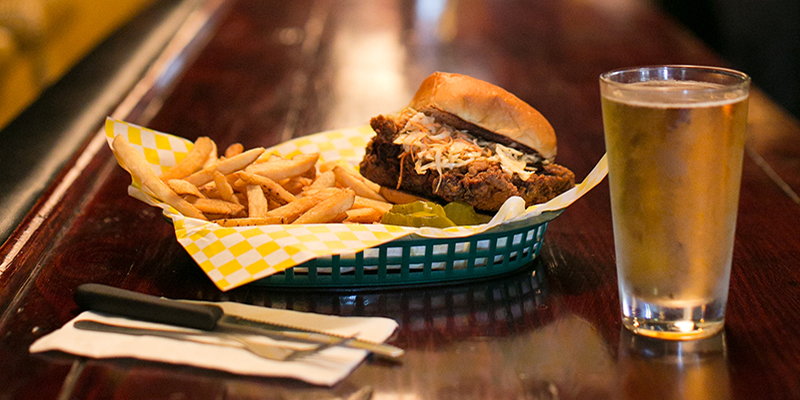 Celebrate your latest purchase by treating yourself at Voltaire, an excellent bistro serving up inventive craft cocktails and globally-inspired small plates. The owners also revived the Golden Ox Restaurant, a classic Kansas City steakhouse. Grab a pre- or post-dinner cocktail at stylish cocktail lounge The Campground.
After a couple drinks, head next door to grab dinner at Lucky Boys, a lounge-like eatery and hangout spot with a bar food menu as eclectic as the furnishings.
For a flavorful lunch outing, give one of the city's buzziest new barbecue joints a try with a visit to Chef J BBQ. Be prepared to arrive early, because the acclaimed spot often sells out.
If you need to get geared up for an adventurous day ahead, caffeination comes easy in the neighborhood. Swing by local roaster Blip for a pick-me-up—and a sample of Kansas City's motorcycle culture. Cafe Cà Phê offers an outpost for Vietnamese coffee drinks inside the 12th Street Post, while the Java Garage provides the perfect opportunity to take a break for a beverage at between vintage finds at neighboring antique stores.
Interactive Map
Discover more of this neighborhood and the rest of Kansas City with our interactive map
Explore City