Family-Friendly Spring Break Fun Awaits in Kansas City
Exotic animals to hand-crafted fudge made right before your eyes, there's plenty of family-friendly spring break fun to experience in KC. To help you plan, try a sample trip itinerary in the City of Fountains.
Day 1: Get Creative
The art and science of everyday life are on vivid display at the new Regnier Family Wonderscope Children's Museum. Home to hands-on opportunities to explore planes, trains, waterways, kitchens, gardens and so much more, you'll be transported to a new world in each whimsical room of the STEAM-oriented space.
There are many more imaginative adventures to be found in the heart of Downtown KC at Legoland Discovery Center, home to more than 2 million Lego bricks. Head next door to Sea Life Kansas City Aquarium, an amazing world teeming with underwater life—more than 5,000 sea creatures, to be exact.
Break for a snack at Crown Center's Chip's Chocolate Factory and sample treats while chocolate makers work their magic. Still in the mood for something sweet and delicious? Travel to Westport's Donutology, a build-your-own concept that offers near-countless different donut hole flavors for fans of any age.
Day 2: The Great Outdoors
There's no better way to celebrate beautiful spring weather than with a day outside at the Kansas City Zoo, one of the most popular family-friendly attractions in the city. Get up close and personal with some of the world's most exotic animals, including chimpanzees, orangutans, penguins, a polar bear and 1,700 other creatures of all shapes and sizes.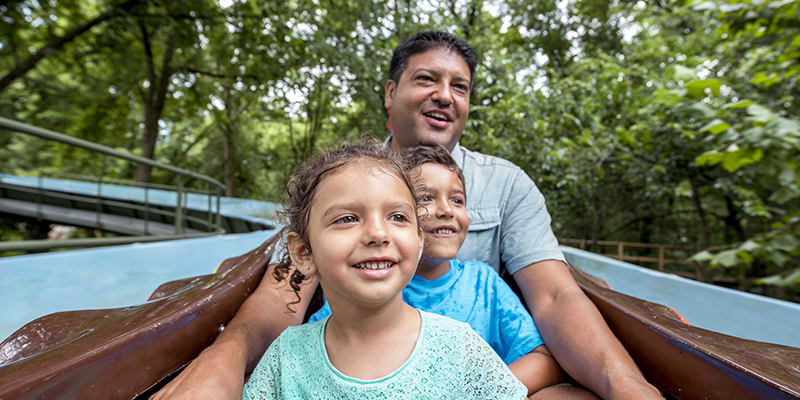 Head to Worlds of Fun for all-ages thrills and excitement. Planet Snoopy is a great bet for your pint-sized travelers—they'll get plenty of rides, laughs and fun in this kid-friendly retreat. Hit the specified height requirements for adrenaline-pumping rides like Mamba, one of the tallest, longest and fastest roller coasters in the U.S.
After a few thrills, relax and unwind in KC's tranquil outdoor spaces. Stroll through 300 acres of nature at the Overland Park Arboretum & Botanical Gardens, home to a children's garden with fossils and footprints that take visitors back in time. Or enjoy an entirely new encounter at Yaya's Alpaca Farm, where a herd of 30 soft and gentle creatures are waiting to greet you.
Day 3: Sports and Sights
Whether you want to cheer on the Kansas City Royals at The K, follow the fast-paced MLS action of Sporting Kansas City or go wild during March in the College Basketball Capital of America, there's no shortage of sports in KC.
Take a look at the intersection of sports and American history at the Negro Leagues Baseball Museum, or make a trip to KCK and watch the Kansas City Monarchs take the field as a living tribute to the legacy of Kansas City's dominating Negro Leagues team.
After you and your family have worked up an appetite, stop at Fritz's Railroad Restaurant, a local favorite. Place your order by phone and watch as a model train brings your food to your table. Your kiddos won't just leave with full bellies—they'll also get conductor hats as souvenirs.
Other notable stops include majestic landmark Union Station, which provides a full day of fun. Tour Science City and explore the power of science through several interactive exhibits.
If you have time for one last photo op, head to The Nelson-Atkins Museum of Art. The iconic shuttlecocks on the museum's lawn make the perfect backdrop for your family portrait. 
Where to Stay and Ticket Packages
Find the perfect place to rest at night by exploring Kansas City's tremendous hotel options. Looking for a deal? Explore the ticket packages and deals to pair your stay with discounts at some of the most exciting attractions in the city. 
Between a brisk morning hike in the wilderness and an afternoon on the patio with a cold drink in your hands, your days are filled with heading from one adventure to the next, or simply doing nothing at all—and loving every minute of it. It's springtime in KC.
Kansas City's wide assortment of highly rated, kid-friendly restaurants keep young ones happy and adults satisfied with authentic Kansas City flavors.