Annual Events in Kansas City
---
From craft beer festivals to holiday lightings and everything in between, mark your calendar with some of Kansas City's largest and most unique happenings on tap for the year. 
Every Month
First Fridays in the Crossroads Arts District
No First Friday is the same thanks to an eclectic mix of art galleries, boutiques, food trucks and more. This free, late-night event offers something for everyone in one of Downtown's most vibrant neighborhoods.
First Weekends in the West Bottoms
Once home to Kansas City's thriving stockyards, the West Bottoms now offers to a wide assortment of antique and vintage stores that invite visitors to search for kitschy-cool artifacts the first weekend of every month.
JANUARY
Kansas City Restaurant Week - Jan. 11-20
Dine out and do good during this 10-day, two-weekend event that highlights more than 190 of the hottest restaurants in the city, each featuring special multi-course menus with portions of the proceeds benefitting area charities.
Chinese New Year - Jan. 27
Each winter, The Nelson-Atkins Museum of Art hosts a Chinese New Year celebration, featuring live music, dance performances, a Chinese calligraphy demonstration, art activities, learning in the Chinese art gallery and Chinese food, as well as activities featuring the New Year's zodiac animal.
February
Grab your beads and masks and join fellow revelers in the Power & Light District for a Mardi Gras you won't soon forget. Count on street performers, contests, libations and plenty more.
March
Big 12 Men's Basketball Championships - March 13-16
The road to the NCAA Men's Division I Basketball Championship goes through Kansas City as Big 12 teams battle for conference supremacy. Between games, celebrate the history of hoops—and indulge your inner athlete—at the adjacent College Basketball Experience.
Snake Saturday Parade & Family Fun Festival - March 16
This Northland tradition is a popular part of the St. Patrick's Day season in Kansas City. Entertainment for all ages abounds throughout North Kansas City, starting with a parade and ending in a carnival.
Kansas City St. Patrick's Day Parade - March 17
One of the country's largest St. Patrick's Day Parades features hundreds of floats proceeding through Midtown, ending in Westport, where the Celtic-themed revelry continues into the wee hours.
Planet Comicon - March 29-31
Celebrate 20 years of superheroes, pop culture and more at KC's largest and longest-running comic book convention and pop culture expo, featuring the best in comic books, fantasy, science fiction television and movies. 
April
Kansas City FilmFest - April 10-14
Grab your popcorn and enjoy more than 100 local, regional, national and international films during this annual juried film festival.
Fountain Day - April 16
Long-known as the City of Fountains, Kansas City kicks off waterworks season with an opening day celebration befitting its proud fountain heritage. 
Worlds of Fun Season Opening  - April 13
KC's popular amusement park opens for the summer with some of the region's most thrilling rides.
May
Gatsby Days - May 2-6
Held in Excelsior Springs, this event explores the culture, glamour and history of the Roaring '20s with street artists, live demonstrations, music, vintage cars, fashion and more.
Brookside Art Annual - May 3-5
The Kansas City art festival season kicks off with the Brookside Art Annual, when the tree-lined streets of charming Brookside transform into al fresco gallery spaces, plus tasty treats and live music.
Polski Day - May 4
From polka to pierogis, Polski Day is your source for all things Poland. Enjoy ethnic foods, beer, dancing, games and a Polka mass, all while celebrating the rich heritage and history of KCK's Polish community.
NASCAR at Kansas Speedway - May 10-11, Oct. 18-20
Head to Kansas Speedway for fast-paced NASCAR action—plus, with two weekends each year, fans get a double dose of high-octane fun.
Oceans of Fun Season Opening - May 24
The largest outdoor water park in the Midwest begins its summer season, stretching until Labor Day.
Celebration at the Station - May 26
Start your summer with the largest free Memorial Day weekend event in the Midwest. Against the majestic backdrop of Union Station, the Kansas City Symphony performs patriotic favorites with appearances from special guests, followed by fireworks to end the evening.
Harry's Hay Days - May 3-4
The City of Grandview celebrates its Harry S. Truman legacy each year with Harry's Hay Days, complete with a parade, food and drink vendors, arts and crafts, live music and a beer garden.
This all-day event in Merriam, Kan., includes everything from a pancake breakfast and a 5K to live music and a Kid Zone at the picturesque Antioch Park.
June
Tumbleweed - May 30-June 1
One of the most renowned and popular traditional country music festivals in the nation, count on camping and country music at this two-day, three-night event in La Cygne, Kan.
Festa Italiana - May 31-June 2
Eat and drink your way through Italy—no passport required! Italian culture takes center stage in this event at Zona Rosa, which includes food, a beer garden, a car show and novelty booths.
KC PrideFest - May 31-June 2
See why The Advocate named KC PrideFest one of the top 10 LGBTQ festivals in the nation. Throughout the weekend event, celebrate inclusion, diversity and pride with live music and performances from local and national headliners. 
Jazz Walk of Fame - June 1
Pay tribute to Kansas City's iconic sound in this event that honors jazz artists by immortalizing their names in 30-inch bronze medallions embedded in the sidewalks on 18th Street in the historic 18th & Vine Jazz District.
Vaile Strawberry Festival - June 1
The beautiful, historic Vaile Mansion hosts this annual event, which welcomes craft and antique dealers who set up their wares throughout the mansion—and, of course, strawberry treats as you shop.
Zona Rosa Summer Concert Series - June 6-Aug.
Every Thursday, Friday and Saturday through August, enjoy live music showcases at Zona Rosa in The Northland. 
Jazzoo - June 7
Creative black-tie attire makes for an unlimited number of fashionable photo ops in this annual fundraiser at the Kansas City Zoo. Funds raised support the Zoo Learning Fund and help buy food for animals.
Old Shawnee Days - June 8-9
Past meets present during this four-day event that celebrates the history of Shawnee, Kan., with attractions including rides, music, games, historical reenactments and crafts. 
Crown Center Antique Festival - June 15-16
Dealers and visitors alike agree that this festival is one of the top antique shows in the Midwest, thanks in part to a dizzying array of wares ranging from furniture and jewelry to pottery and linens.
Heart of America Shakespeare Festival - June 11-July 7
To festival, or not to festival? At the Heart of America Shakespeare Festival, that's not even a question. Each year, the free festival features performances of a different Shakespearean masterpiece.
Boulevardia - June 14-15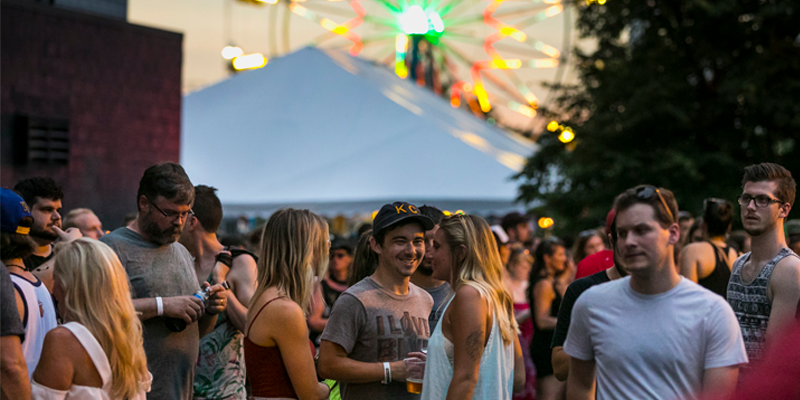 KC's Stockyards District in the West Bottoms transforms into an all-senses destination during this favorite festival hosted by Boulevard Brewing Co., complete with food trucks, concerts, maker booths, a family carnival and, of course, beer stations that offer local, regional and national craft brews.
Maker Faire Kansas City - June 22-23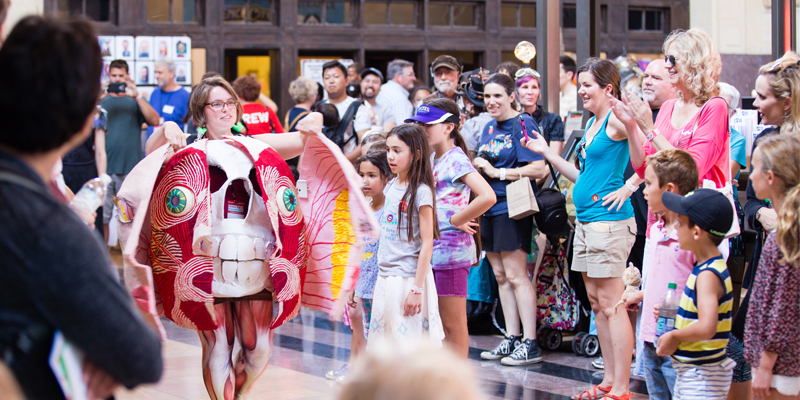 Cutting-edge technology combines with more traditional creative pursuits like art and jewelry-making to culminate in a festival that celebrates creators and makers, all at Union Station.
Transport yourself to the Scottish Highlands without leaving KC in this festival that invites all to celebrate the wonderful heritage, hence the show's motto: "Come be a Scot, even if you're not!"
Sponsored by the Hispanic Chamber of Commerce of Greater Kansas City, this festival celebrates Hispanic culture which features great music, food, dancing and exhibits.
July
KC RiverFest - July 4
Celebrate July Fourth in this festival at Berkley Riverfront Park, which begins with live music, activities and food and concludes with one of the largest fireworks shows in the Midwest.
Grand Carnivale - July 13-Aug. 4
An immersive new summer experience that invites visitors to celebrate the sights, sounds and tastes from cultures around the globe, including India, China, Italy, France and Germany—all, fittingly, at Worlds of Fun.
KC Fringe Festival - July 14-28
There's no better time to celebrate Kansas City's vibrant creativity than during this 11-day showcase of local performing and visual arts.
Amelia Earhart Festival - July 19-20
Head to Atchison, Kan., Amelia Earhart's birthplace, for an annual celebration of the aviation icon packed with events, including live music, carnival rides, a food and crafts fair, aerobatic performances and the grand finale: a Concert in the Sky fireworks show.
Kansas City's Big Picnic - July 21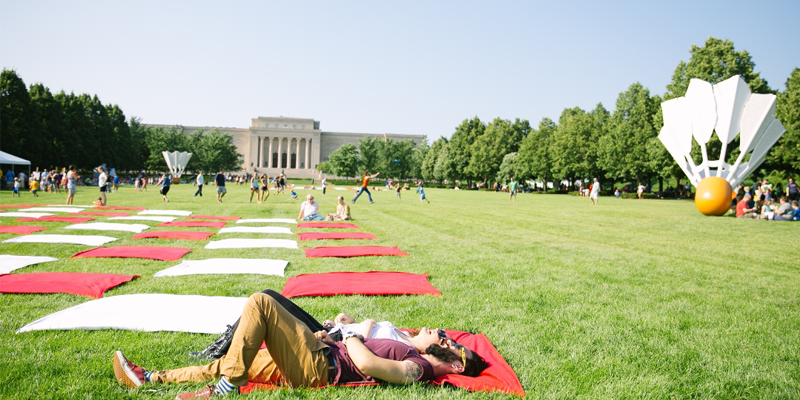 All activities and performances are free and ongoing in this annual festival held at The Donald J. Hall Sculpture Park at The Nelson-Atkins Museum of Art.
WeekEnder - July 12-Aug. 9
Cap off your work week with this free event featuring top local bands and favorite food trucks. Then, finish the evening with a famous flick under the stars at Crown Center Square.
AUGUST
Ethnic Enrichment Festival - Aug 16-18
KC's diverse cultures unite at this weekend extravaganza that includes food, dancing and music representing dozens of countries, as well as several ethnic groups recognized by Ethnic Enrichment Committee.
Heart of America Hot Dog Festival - Aug 10
The Negro Leagues Baseball Museum welcomes hot dog aficionados to sample delicious ballpark franks, including the signature Kansas City Monarch Dog, plus live music and admission to the museum.
Middle of the Map Fest - Aug. 29-Sept. 2
Immerse yourself in music, films and forums during Middle of the Map Fest, quickly becoming one of Kansas City's favorite local events.
Pay tribute to KC native Charlie Parker, one of the finest and most influential jazz musicians to ever play, at this 10-day event that features live music, public programs and more.
Celebrate bacon during this summer event that's home beer, bands and, of course, bacon. Local restaurants showcase their culinary skills by creating dishes that feature bacon or pork.
Eat your way through Downtown KC during Dine Downtown, where restaurants throughout the Power & Light District offer exclusive, multi-course menus for lunch and dinner.
SEPTEMBER
Kansas City Irish Fest - Aug. 31 - Sept. 2
Celebrate KC's Celtic heritage with three days of live music, special performances, locally provided libations, activities for young ones, tastings and plenty more in this beloved 
Crown Center
 bash. 
Santa-Cali-Gon Days - Aug. 30 - Sept. 2
This Independence festival commemorates the origin of the Santa Fe, California and Oregon trails during westward expansion. Browse more than 500 artisan, craft, food and commercial vendor booths, as well as a carnival, a 5K and more.
Kansas City Renaissance Festival - Aug. 31 - Oct. 14 (weekends)
Step back in time at the Kansas City Renaissance Festival, a medieval-themed village home to jousting knights, thrill-seeking acrobats and beautiful maidens.
Dancefestopia - Sept. 5-8
Nestled in rolling hills, surrounded by thousands of acres of forest and pristine lake water, Dancefestopia has become one of the largest camping and music festivals in the nation, featuring some of the most prominent DJs in the world.
Art Westport - Sept. 6-8
Local artists gather in KC's oldest neighborhood for Art Westport, a weekend fair that showcases original art, jewelry, fine crafts and more.
Paris of the Plains Cocktail Festival
Craft is the focus of the Paris of the Plains Cocktail Festival, which combines seminars, live music, competitions and cocktails, all to promote the craft of bartending.
American Indian Cultural Celebration - Sept. 15
Enjoy live performances by American Indian dancers and musicians, watch artist demonstrations, and explore the museum's rich collection of Native American artwork.
Plaza Art Fair - Sept. 20-22
This nationally recognized, nine-block art event at the Country Club Plaza typically draws crowds of more than 250,000 who gather for art, live music and food and drinks from a variety of KC restaurants.
Halloween Haunt - Sept. 14 - Oct. 26
Ghosts, ghouls and other creatures of the night roam freely through Worlds of Fun during Halloween Haunt, which showcases the scarier side of the amusement park.
American Royal World Series of Barbecue - Sept. 12-15
The world's largest barbecue competition includes live performances, a festival full of entertainment and plenty other activities, making it one of fall's signature events.
Deaf Cultural Festival - Sept. 28
Visit the Nelson-Atkins Museum of Art for a celebration of Deaf culture – a festival honoring the rich history of Deaf art, identity, and empowerment. Encounter and learn about American Sign Language through hands-on art activities and live entertainment from distinctly Deaf perspectives.
Louisburg Ciderfest - Sept. 28-29 & Oct. 5-6
Head to Louisburg Cider Mill for the annual Ciderfest, where guests are invited to watch how apples are pressed into cider, sample cider donuts and other treats, plus live music and activities for young ones.
OCTOBER
Weston Applefest - Oct. 5-6
Explore historic Weston, Mo., as arts and crafts booths line Main Street, touting a tempting range of apple delicacies, from dumplings and pies to cookies, all made by members of local churches. 
WaterFire Kansas City - Oct. 5
One of the most beautiful nights of the year is WaterFire, when the internationally renowned art installation floats serenely down KC's Brush Creek in a fiery, lighted show not to be missed.
Wild West Days - Oct. 12-13
Experience the excitement of the Wild West during this Olathe event at Mahaffie Stagecoach Stop and Farm Historic Site, a working 19th-century farm complete with oxen, horses and other livestock.
Brew at the Zoo and Wine Too - Oct. 19
Enjoy an evening of live music, delicious bites and a variety of beer and wine from local breweries and vineyards.
Boo at the Zoo - Oct. 26-27
Break out your best costume and spend the day trick or treating at the Kansas City Zoo. Kids will also love the Halloween-themed activities that offer plenty of treats—no tricks here!
Missouri Town 1855 Festival of Arts, Crafts and Music
Enjoy wagon rides, reenactments, crafts and more in this annual festival that takes place at Missouri Town 1855, where guests can travel back in time to experience life in the 1850s.
KC Oktoberfest - Oct. 4-5
Head to Crown Center to experience a two-day celebration of KC Bier Co. craft brews, traditional European food, engaging games, activities and Bavarian-style entertainment.
American Royal Livestock, Horse Show and Rodeo - Oct. 16-27
With roots dating back to 1899, this iconic event celebrates the region's agricultural heritage through competition, education and entertainment, including rodeos and livestock shows.
A spellbinding Halloween experience with hundreds of hand-carved jack-o-lanterns lighting up a one-mile trail through the gardens.
NOVEMBER & DECEMBER
Dia De Los Muertos (Day of the Dead) - Nov. 3
A lively festival celebrating Mexican art and culture, including an altar installation, features art activities, live music entertainment and Mexican food. A fall tradition for many families.
Pig and Swig - Nov. 9
A showcase of some of the best local and regional barbecue flavors, bourbon, whiskey and craft beer.
Christmas in the Park at Longview Lake - Nov. 27 - Dec. 31
Gather the whole family and head to Longview Park & Lake for this drive-through holiday pastime that touts colorful displays conjured up by more than 300,000 lights.
Plaza Lights - Nov. 28 - Mid-Jan.
Timeless in every way imaginable, the Plaza Lights are a quintessential KC holiday tradition—and a delightful reminder of the Spanish-inspired Plaza's undeniable beauty.
The Nutcracker - Nov. 29 - Dec. 22
Following its Kennedy Center premiere in Washington, D.C., the acclaimed holiday production returns to KC for its 47th year. Performed by the Kansas City Ballet.
Mayor's Christmas Tree - Nov. 29 - Mid-Jan.
Crown Center's magnificent centerpiece towers more than 100 feet high and is illuminated by more than 7,200 white bulbs, proving it a proud showcase of Kansas City's seasonal spirit.
Crown Center Ice Terrace Opening
The Crown Center Ice Terrace is a favorite family destination during the winter months thanks to the outdoor skating rink that offers fantastic, festive views.
The spirit of a 1950s Downtown Kansas City tradition lives on as several lighted crowns are suspended over the streets of Zona Rosa, plus the official arrival of the holiday Fairy Princess and Santa Claus.
CBE Hall of Fame Classic/Hall of Fame Weekend - Nov. 25-26
Hosted by The College Basketball Hall of Fame, this tournament at Sprint Center kicks off a new season of collegiate basketball competition. Meanwhile, the same weekend, six to eight basketball players and coaches from around the country are inducted in the National Collegiate Basketball Hall of Fame each year. 
A Legendary Light Show at Legends Outlets
Fans of holiday lights and music will love this show at Legends Outlets, where the outdoor outlet mall dazzles with dancing lights synchronized to holiday music every 15 minutes.
A city as great as KC deserves a season-long celebration of the holidays. Downtown Dazzle does just that—and so much more—thanks to customized shopping trips, exclusive experiences and an uber-popular urban homes tour.
WinterFest Nov. 23 - Dec. 31
KC's newest holiday tradition whisks guests away as Worlds of Fun is transformed into a magical winter village filled with ice skating, family rides, seasonal décor, live entertainment, a nightly tree lighting and more.
Several Downtown buildings light up the winter skyline, with the notable centerpiece being the front façade of the 22-story Marriott Downtown, featuring a synchronized display of 30,000 bulbs and 16.7 million colors.
For decades, visitors from across the globe have traveled to Kansas City, drawn in by its smoky aroma, just to get a sample of its acclaimed cuisine.
Kansas City winters are jam-packed, featuring six weeks of seasonal celebrations, festive events and luminous light shows, followed by months more of ice skating and big-hill sledding.