Kansas City Accessibility Resources
Kansas City is rapidly becoming one of the nation's most welcoming cities for visitors with disabilities.
A Welcoming Destination
Feature by Kevin Collison
Starting with an airport that's considered exceptionally user-friendly to a mass transit system featuring a Downtown streetcar line with convenient accessibility for all users, the City is keenly aware of the needs of all travelers.
"We're striving continually for Kansas City to be the most accessible city in America," - ADA Compliance Manager at City of Kansas City, Missouri Meg Conger
For the past several years, Kansas City has embraced what it calls Project Civic Access, a program intended to maximize accessibility to public buildings and attractions. It has led to millions of dollars being invested in curb cuts, ramps, new building entrances and state-of-the-art accessible pedestrian signals that tell visually impaired people not only when to cross but the name of the street as well.
"We're striving continually for Kansas City to be the most accessible city in America," said Meg Conger, who leads the effort at City Hall. "We're not there yet, but I think we should get an A for effort."
One of the more prominent accessibility projects is at Bartle Hall, part of the Kansas City Convention Center. Its ground-level entrances along 13th Street are being completely rebuilt to maximize their convenience to visitors with disabilities.
"It will be very forward looking, very 21st Century," said Paul Lillig, a professional design consultant that serves people with disabilities.
The future of new construction also is promising. As part of the city development review process, project plans are evaluated for their accessibility to visitors with disabilities and changes recommended if they fall short.
"That's why I think we're trending to being a more accessible community," Lillig said.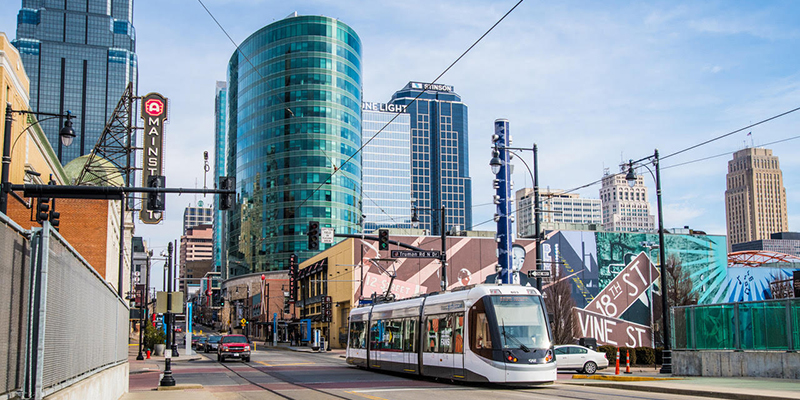 The newest way to access Downtown Kansas City is with the 2.2-mile KC Streetcar route that links many of KC's major attractions and neighborhoods, including the Crown Center District, historic Union Station, the Power & Light District and the historic River Market.
Since its introduction, the KC Streetcar has been a great addition to Downtown's transportation options, particularly in extending the range of power wheelchairs—perfect for exploring all of the new restaurants and experiences in the city.
Susie Haake, a disability advocate, added that all of the City's conventional buses are ramp-equipped and accessible. For more customized trips, there's the "Freedom" paratransit system, an on-demand service that offers transport outside the city's mandated ADA catchment area. 
"Kansas City's commitment to becoming one of the nation's most welcoming cities for people with disabilities is all about living up to its reputation for being one of the nation's most livable cities," said David Westbrook, senior vice president of strategy and innovation at Children's Mercy Hospitals and Clinics, and a member of the Mayor's Committee for People with Disabilities.
Westbrook added that the City has stepped up its efforts to achieve its accessibility goals by consciously empowering people with disabilities to advise leaders on innovative ways to make accommodations that do more than merely dispatch the requirements of the ADA.
"Kansas City brings imagination to the ADA's requirements, transforming accommodations into amenities that are for the benefit of all."
Accessibility Resources
At Kansas City International Airport
Kansas City International Airport's amenities include curbside assistance at terminals, ADA-compliant restrooms, visual paging, braille and other accessibility resources for special assistance and special needs travelers. For more information about KCI's accessibility offerings, visit flykci.com. 
Expect an industry-leading accessibility experience at the new single terminal at KCI that lands in 2023. Amenities will include an all-inclusive play area for children and families with special needs, service animal relief areas, nursing rooms and adult changing tables at bathroom facilities. KCI will also offer a state of the art simulation room that provides travelers with an in-depth walkthrough of the airport and flying experience before passengers board their plane.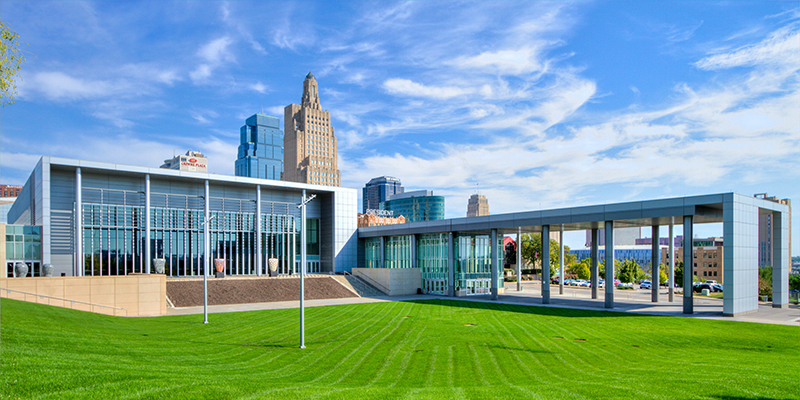 At the Kansas City Convention Center
Convention Center amenities include ADA-compliant restrooms, family restroom facilities, Text Teletype and assisted listening devices. The Convention Center's hospitality room will assist meeting planners in securing any other needed equipment. To speak with the Convention Center's ADA specialist, call 816-513-2533.
At Area Hotels
For Visitors: Using our hotel search engine, you can find the specific amenities needed or call the 800 number for assistance in finding a hotel that will meet your needs.
For Meeting Planners: Ask for your hotel's ADA coordinator for more information about securing a room that meets your client's specific needs. For assistance locating a hotel in the metro area, click here.
Sensory-Friendly Activities and Things to Do
Many of Kansas City's most popular experiences—such as the Kansas City Zoo—are also the city's most inclusive, meaning visitors and locals with sensory sensitivities can enjoy the best of KC without overwhelming sights, sounds and other factors. 
Other Services
Interpreters
Able Hands Interpreting Services: 816-838-HAND
Deaf Expression Inc.: 913-268-3323
Personal Care Assistants
FirstCall HomeCare: 816-373-9688
CareStaf Inc.: 913-498-2888
Wheelchairs and Wheelchair Lifts
Chuck's Mobility: 913-859-0290
101 Mobility: 913-533-7717
Kansas City Home Medical Supply: 816-533-0444
American Care Equipment: 913-383-3456
Oxygen
Liveasy Medical Equipment: 816-318-9950
Kansas City Home Medical Supply: 816-533-0444
Accessible Vans
Secure Medical Transport: 816-350-1800
Transportation
Metro Bus Accessibility Program
Passengers with disabilities are eligible for reduced fares with the Kansas City Area Transportation Authority (KCATA). These travelers may ride The Metro at half the regular cost if they are Medicare card holders. One attendant may ride free. The Metro provides lift service  for passengers who use wheelchairs every bus route.
For more information about The Metro and its routes, visit kcata.org or call Metro Customer Service at 816-221-0660. A teletypewriter is available at 816-221-0380.
Comparable Paratransit
The Americans with Disabilities Act requires that all public bus systems provide "comparable paratransit" service for persons who cannot independently use the bus service. Comparable paratransit service is a door-to-door service provided by vans or sedans in The Metro ADA service area. Generally, this service area extends three quarters of a mile on each side of regular bus route service. Comparable paratransit service is available during regular Metro service hours. To take advantage of this service, the visitor must be certified as ADA eligible. Agencies providing ADA comparable paratransit service in the metro area are
Freedom (primarily Kansas City, Mo.): 816-346-0810
Dial-A-Ride (Kansas City, Kan.): 913-573-8351
Dial-A-Ride (Independence, Mo.): 816-325-7399
Wheelchair Accessible Taxi Services
Secure Transport - Kansas City, wheelchair accessible vehicles available: 816-350-1800
zTrip - Kansas City, wheelchair accessible vehicles available
Alternate Transportation
Assisted Healthcare Transportation: 913-262-5190
Budget Taxi: 816-835-7172
Checker Services: 816-461-8440
Medical Transport Services (Basehor, Kan.): 913-963-9117
Mid-America Wheelchair Services Inc. (Lee's Summit, Mo.): 816-525-2790
OATS Inc. (Harrisonville, Mo.): 816-380-7433
Safe Plus Way: 816-361-5992
Safe Way Medical Transportation (Shawnee, Kan.): 816-631-5992
Tiblow Transit (Bonner Springs, Kan.): 913-422-5355
Kansas City ADA Assistance Office
For more resources, please visit the City of Kansas City, Missouri's website or contact KC's Director of ADA Compliance, Jean Ann Lawson, at 816-513-6566.