New Single Terminal at Kansas City International Airport Lands in 2023
Fit for the modern traveler, the new single terminal at Kansas City International Airport will debut in early 2023 and feature 39 gates, updated amenities and new dining options, all with the convenience current travelers know and love.
Discover news, updates and more as they unfold in anticipation of the single-terminal's debut. 
Note: Due to ongoing construction at Kansas City International Airport, travelers are encouraged to allow for extra time as a result of changing traffic patterns. Beginning April 28, 2020, travelers should expect major vehicular travel pattern changes, including the usage of a new roadway system utilizing roundabouts. Click here for more information.
Modern Design
The possibilities are nearly endless with a single-terminal. For travelers, it means no more shuttling from one terminal to another to make connections between airlines—all with the same convenience for which the current airport is known.
The addition of a simplified terminal garage makes dropping cars off even easier thanks to close-in, covered parking in two different levels—one dedicated to departures and the other to arrivals—moving walkways to get travelers to their destination even quicker and more.
Not to mention that air travel has evolved dramatically KCI first debuted in 1972. Baggage screening, enhanced security measures and other aspects of modern life such as cellphones are now typical experiences for all airport visitors.
The new single-terminal promises a bold, first impression of Kansas City for both planners and meeting attendees. Top to bottom, this totally reimagined facility will better reflect the vibrant, thriving destination that KC has become.
Convenience is Key
Located three hours from either coast and less than 25 minutes from the Kansas City Convention Center, KCI touts some of the most affordable fares in the country. Don't expect this to change, either, because it isn't a major airline hub, meaning prices will remain competitive to and from KC.
The Kansas City International Airport continues to grow even during this transitional period, offering hundreds of daily flights to dozens of nonstop destinations, both domestic and international.
New Amenities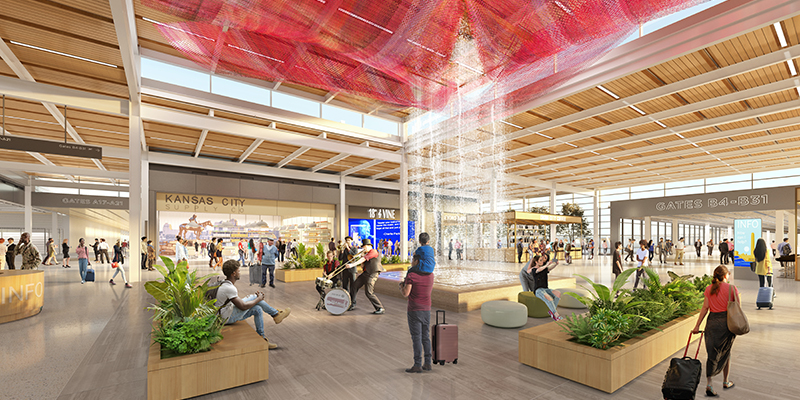 New amenities include easily found customer service help desks and enhanced dining options—including fast-casual, upscale and cocktail services—plus local and national retailers for souvenirs and travel necessities.
Other updates include:
Airfield views
Live music by local musicians
Inclusive play areas
Nursing mothers rooms
Service animal relief area
Military USO
Gracious crowd circulation
Flexibility for future changes
Art installation opportunities