Motorcades and parades down Paseo. Election-night stays in Excelsior Springs and national political conventions in the West Bottoms. There's something alluring about Kansas City's Midwestern charm, about its authenticity that draws the attention of politicians. With limited time and overbooked schedules, presidents both past and present have made time to visit KC, leading to a number of White House favorites in the City of Fountains.  
Here are some of KC's most historic and popular presidential pit stops:
A Night at The Elms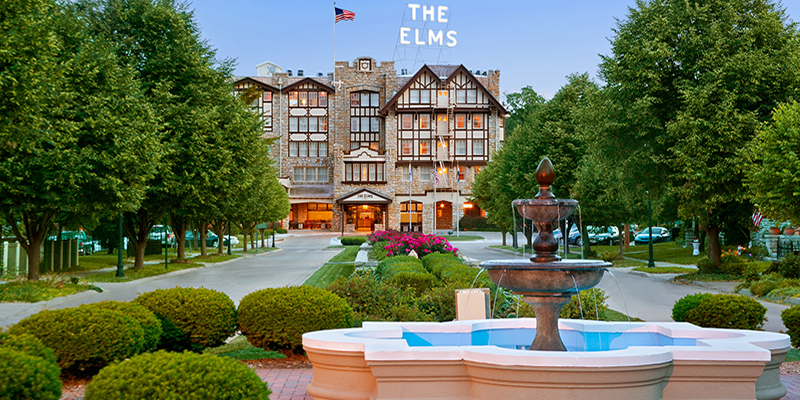 It's one of the most iconic photos in American history. "Dewey Defeats Truman," the headline incorrectly proclaims, as president and Independence native Harry S. Truman holds the newspaper aloft with an exultant grin. Two days earlier, he was posted up at The Elms Hotel & Spa in Excelsior Springs to escape the political hubbub surrounding the 1948 presidential election, only to awake in the morning and learn of his unexpected victory.
Truman's stay boosted publicity for the hotel and is still one of the most popular pieces of trivia in Excelsior. 
Honoring the Fallen
Less than a decade after the end of the World War I, Kansas City built Liberty Memorial to commemorate the men and women who gave their lives in the conflict. Upon completion in 1926, President Calvin Coolidge dedicated the structure, stating that the Liberty Memorial was not "raised to commemorate war and victory, but rather the results of war and victory, which are embodied in peace and liberty."
More than 80 years later, Barack Obama gave his second campaign speech on the grounds, and would go on as president to officially designate the tower as a national memorial and the National WWI Museum and Memorial as a national museum.  
A Crazy Convention
In 1976, the most recent "open" Republican National Convention swept through Kansas City in a torrent of party politics and no-holds-barred rhetoric (not to mention a 55-foot inflatable elephant flying through Downtown KC). The entire four-day affair was held at Kemper Arena—now Hy-Vee Arena—and was headlined by a showdown between sitting president Gerald R. Ford and runner up Ronald Reagan.
Despite losing to Ford by just 117 votes, Reagan's stirring concession speech marked a turning point in his political career, offering Kansas Citians and Americans a glimpse of his eventual administration.
Photo courtesy of the Gerald R. Ford Foundation
The Parade Down Paseo
With a straightforward style and honest demeanor, it's no wonder Teddy Roosevelt drew crowds wherever he travelled. His 1903 "Tour of the West" trip stopped in Kansas City and practically shut the city down, however, as tens of thousands lined the streets during his procession down Paseo Boulevard.
Schoolchildren and businesspeople alike gathered to greet the president as he made his way to the old Convention Hall in Downtown KC. Roosevelt then spoke for longer than an hour to a crowd of more than 15,000, making for one of the most memorable presidential visits in KC history.
Photo courtesy of Missouri Valley Special Collections.
White House West
Now operating as part of the Kansas City Marriot Downtown, Muehlebach Hotel was once a veritable KC Camp David for a long list of former presidents. The hotel hosted Teddy Roosevelt, Woodrow Wilson and Calvin Coolidge. Herbert Hoover frequented the Muehlebach during the 1928 Republican National Convention, which was held across the street at Convention Hall.
Harry S. Truman spent so much time at the hotel that it became known as "White House West." The Independence native even conducted business there, signing the Truman Doctrine in the Muehlebach's presidential suite in 1947.  
Photo courtesy of Missouri Valley Special Collections
Barbecue Pit Stop
Framed photos of famous visitors adorn the walls at the original Arthur Bryant's Barbeque like awards in a trophy case. Among these celebrity sightings, visitors will find candid shots of some of the most recent commanders-in-chief, including Jimmy Carter, Bill Clinton and Barack Obama.
Meanwhile, former president Harry S. Truman was a regular at the barbecue joint. Known for its burnt ends, the celebrated barbecue institution is practically a must-try for any sitting president (or Oval Office hopeful) who pays a visit to Kansas City. 
Home Sweet Hometown
Only a short drive from Downtown KC, Independence is the boyhood home of Harry S. Truman. The 33rd president of the United States spent his adolescence on the family farm and working at Clinton's Soda Fountain—a still-open and ever-popular shop known for its milkshakes, malts and fountain sodas—where he made a whopping $3 per week.
Later in life, Truman and his wife, Bess, bought a home in Independence that the two lived in before, during and after his presidency. A National Historic Site, the Truman Home stands to this day and, along with the Harry S. Truman Library and Museum, sees visitors from all over the country.