All-Day Breakfast Dining in Kansas City
---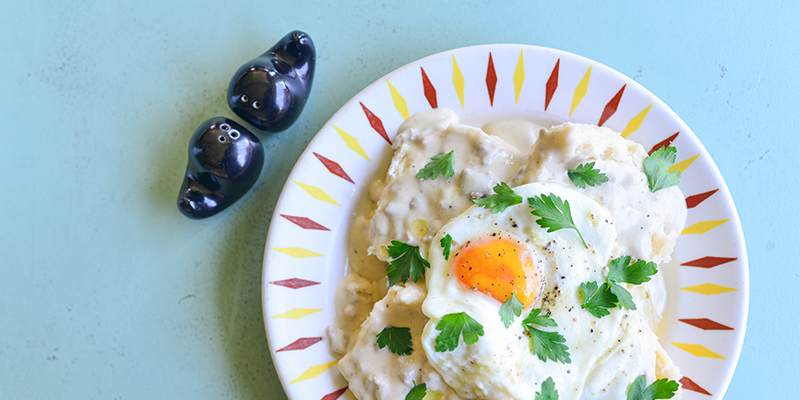 In search of breakfast restaurants open all day long? Some of the most popular restaurants in Kansas City dish out breakfast from sunrise to sunset, meaning your morning cravings can be satisfied whether you're an early riser, night owl or something in between.
Here are some of the best all-day options for breakfast dining in Kansas City:
All Day, Every Day
Iconic diner or gourmet gastropub, grab breakfast around the clock at these establishments.
Elevated comfort food is the specialty at Beer Kitchen, where a solid stable of chicken and waffles and corned beef hash is rounded out by near-endless combinations of omelet ingredients.
For diner-style fare, head to Town Topic, a local legend since 1937. There you can get a hearty start with options like hot cakes, biscuits and gravy and the Haystack Sandwich, a breakfast sandwich that's filled with egg, sausage (or bacon or ham), cheese and hashbrowns, all between two slices of Texas toast.
Biking and breakfast aficionados love Spokes Café | Cyclery for its all-day assortment of burritos, sandwiches and pastries, plus cycle services such as tune-ups, new bikes and custom frames.
Through Mid-Afternoon
Ease into your day with late-start options from these breakfast spots open through mid-afternoon.
Meshuggah Bagels consistently crafts authentic handhelds topped with anything from salty lox and pastrami nova salmon to more than 10 different schmear flavors.
Operating in both South Plaza and Shawnee, eggtc. is a regional favorite for its casual menu and fresh flavors, including various iterations of frittatas and French toast.
Farm-to-table serves as the backbone of the menu at Room 39, which means that diners can expect seasonal tastes that keep their palates guessing—and satisfied.
Fresh twists take on down-home classics at The Corner Restaurant in Westport. Think eggs benedict topped with house-made chorizo and hashes that come loaded with local veggies, just to name a few ideas for inspiration.
Happy Gillis is a Columbus Park mainstay that relies on a regionally sourced ingredients in items like its signature biscuits & gravy among other rotating options.
On the Sweet Side
Kansas City has just what you need if you're in search of something sweeter.
Beloved by visitors of all ages, Donutology runs on imagination as guests are invited to create their own custom mini donuts using countless combos of icings, toppings and more.
Meanwhile, at New Orleans-inspired Beignet, a wide assortment of fillings—from cinnamon apple to sea salt caramel—are sure to satisfy your sweet tooth. 
Jams, marmalades, coconut cream custard and Nutella are all featured in different crepes available at Chez Elle, a charming spot in the pleasant Westside neighborhood.
Coffee Shops and Cafes
Caffeinate and fuel up at several Kansas City coffee shops that offer full menus.
Mildred's is a beloved Crossroads Arts District meeting spot thanks to its quick service, great coffee and renowned breakfast sandwiches, most of which feature fluffy steamed eggs.
Between nutrient-packed brunch bowls and hand-made quiche available every day, The Filling Station is a go-to destination for a quick bite or to stay and hang.
Other area cafes tout baked goods and seasonal snacks to start your day.
Single-Dish Specialties
Some restaurants offer special breakfast dishes instead of full menus, including countless unique options as well.
Take, for example, the chicken & waffles at Gram & Dun. The savory-sweet concoction comes complete with vanilla honey butter, maple syrup and hot sauce for a meal that can't be kept to brunch alone.
Make your way to The City Market, where you'll find Burrito Brothers, a craveworthy hotspot that offers up an all-day breakfast burrito filled with fresh chorizo sausage and eggs, plus your choice of other add-ins. 
Consult our go-to guide to Kansas City's coffee shop scene to sample some of the best in the region.
Whether you're an art aficionado or a casual viewer, you're sure to love these beloved artworks.
For sightseers in search of inexpensive adventures, the Kansas City metro is full of so many free things to do and see. Explore the City of Fountains with these 33 free activities that offer something for everyone.