Crown Center Convention District
"All-in-one" doesn't quite do Crown Center justice. Sure, there's two stellar hotel properties connected to the facility itself, which is renowned among the business community for being home to high-quality meeting spaces. But there's also the notable dining options—perfect for meals between meetings—and shopping that always impresses. As the international headquarters for Hallmark, it should come as no surprise that Crown Center is a destination that inspires as much creativity as anywhere else in the city.
All that's left is to get to work.
MEETING HOTELS
Combined, the Sheraton Kansas City Hotel at Crown Center and The Westin Kansas City at Crown Center account for 1,454 rooms (730 and 724 respectively), each ideal for small- to mid-size groups—or large blocks during citywide events.
The Sheraton's largest meeting space maxes out at 17,484 square feet while its Crown Center Exhibit Hall touts a whopping 45,000 square feet for events of every kind.
Fresh off a $20 million renovation that updated every single guest room, The Westin also offers several meeting rooms, with its largest encompassing 16,090 square feet.
EVENT SPACES
The beauty of a self-contained district like Crown Center is that planners never have to worry about shuttling attendees to and from destinations—they're right in the middle of the action once they arrive.
The Westin offers 31 meeting and event rooms, accounting for a total of 53,873 square feet of space. Not to mention the direct connection to Crown Center Exhibit Hall—a 52,000-square-foot facility with high-speed Wi-Fi and two distinct spaces that can be utilized as one, if needed.
If attendees are staying at the Sheraton, street-level access to the Exhibit Hall is only a short walk from hotel room to event space. Meanwhile, the Sheraton Grand Ballroom is the largest such hotel facility in the city at 17,487 square feet, just one of the 21 total meeting rooms available for use on the property.
DINING + NIGHTLIFE
Host elegant private dining experiences at The American Restaurant, one of the most remarkable culinary establishments in the city, known for its James Beard Award-winning food, stunning architecture and an incredible view of Downtown KC. Another killer spot is the swanky One East Urban Bar & Kitchen, which offers a locally inspired menu of New American dining, craft beer, cocktails and wine at The Westin.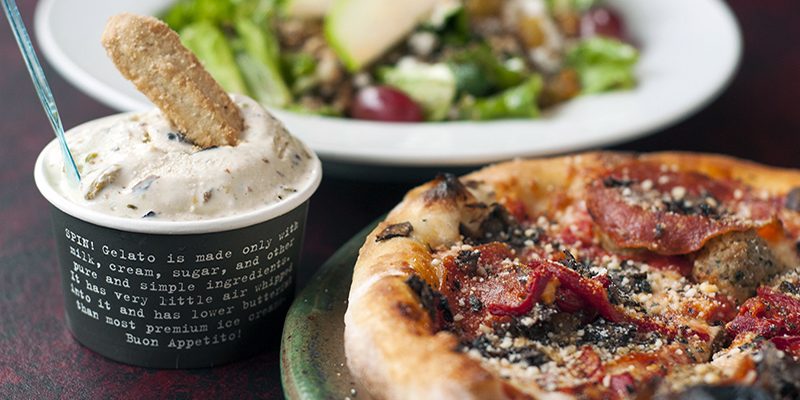 For quicker options, attendees can try Unforked, (farm-fresh fast-casual concept), Spin! Neapolitan Pizza (speedy pizza place) and Burnt End BBQ, a great pick for KC's famous cuisine with counter service and plenty of options for families.