Still struggling with the death of his spouse, Rob hopes to move on with a fresh start for himself and his young boys.
Life After Queer Eye
Rob Elrod was holding onto grief. It showed.
The Queer Eye hero never truly took time for himself, both to process the loss of his wife and to face the life yet to live with his two young sons.
"A person doesn't really know when they quit caring about their appearance, and I was clearly there," Elrod says. "Having the Fab 5 point that out, that I quit caring, and also point out the joy in my eyes when they could see my confidence growing really impacted me. It feels good to look good, they reminded me and showed me that."
Grief is not easy to face, even after two years. Elrod discovered that not only was he holding onto that sorrow, but that it would never really disappear. And that that's normal, and okay.
"I was reminded by the Fab 5 to stay in touch with my feelings and absolutely take time for myself," he says. "The whole week was needed for me to stop and look inward."
Sometimes, all it takes is a little acceptance, even if it's something as simple as allowing yourself to enjoy the city around you.
"I love Kansas City and love how the Fab 5 embraced a city that embraced them," he says. "My trip to the West Bottoms to EJ's Urban Eatery was eye opening. I haven't been in that area in years and to see how it's coming alive again is great, even Bobby thought it's a few years from being KC's new hot spot."
A few of Elrod's other favorites include Union Station, the Crossroads Arts District and Knuckleheads Saloon for live music in the East Bottoms. His go-to dining spots include Leawood's Plaza III, which he says has the best steak in the city, and Bluestem, a favorite for both him and his late wife. Then there's barbecue.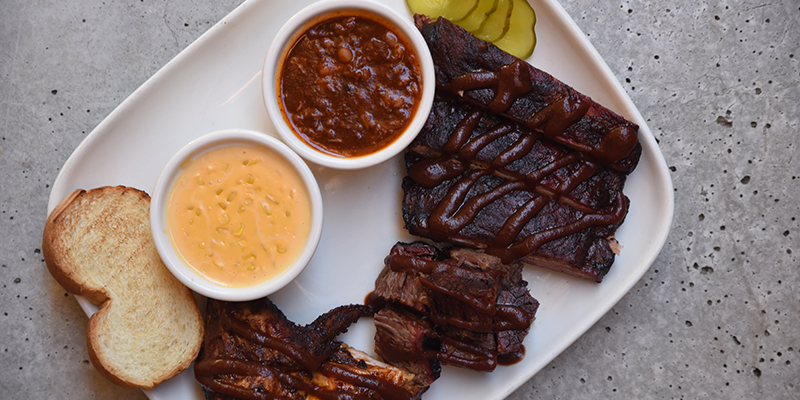 "Too many great options in this city for barbecue," he says. "Obviously Jones Bar-B-Q is my new favorite, but Fiorella's Jack Stack Barbecue, Q39, Joe's Kansas City Bar-B-Que and Johnny's B-B-Q will never be turned down by my family."
With a renewed appreciation for life after tragedy, the future has never been brighter for Elrod and his boys. As for Kansas City, where else would you want to raise a young family?
"We are no longer a fly over city," Elrod says. "We truly are the Paris of the Plains."
Ways to Experience this Episode
EJ's Urban Eatery: A Southern-style meat-and-three restaurant, don't miss out on the incredible summer squash casserole, as featured in the episode, among other excellent dishes.
H&M: Hip, affordable threads for men and women found on the Spanish-inspired Country Club Plaza.
KC's Live Music Scene: Inspired by Rob's love for live music? Between small, intimate shows and huge, sold-out concerts, there's always a performance to be seen in KC that, years later, you'll be telling people, "I was there."
Pottery Barn: Find inspiration to update and redecorate your digs while visiting this national décor showroom.
Also Featured in this Episode