Everything You Need to Know About First Friday Weekends in the West Bottoms
Mid-20th Century buildings tower overhead as shoppers hustle between vintage stores in search of their next great discovery. It's First Friday Weekend in the West Bottoms, home to the largest vintage and antique market in the U.S., which means that many of the most prominent and popular antique dealers open their shops to reveal their thrifty picks to the masses.
While the Crossroads Arts District is well-known for its First Fridays events, the West Bottoms extends the monthly celebration through the end of the weekend, bringing food trucks, special happenings and more to the historic district. The region has a distinct flavor to it, a mixture of KC's agricultural roots and a fresh, vibrant culture that mindfully pays homage to ages past. With the area more bustling than in recent memory, you can spend your whole weekend there and still find more to do next time you visit.
Here's everything you need to know about First Friday Weekends in the West Bottoms:
Where to Go and What You'll Find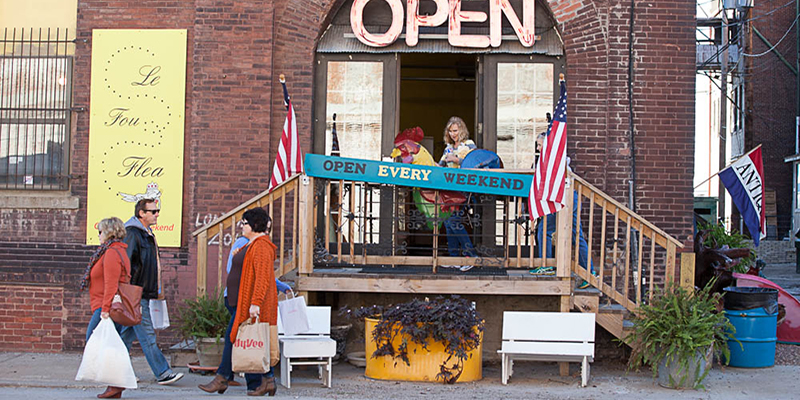 The West Bottoms is situated immediately west of Downtown KC, at the confluence of the Kansas and Missouri Rivers. Travelers can take a long, winding bridge down into the region and feel immediately transported to a totally different city despite being less than a five-minute drive from the Power & Light District. Once home to the Kansas City Livestock Exchange and Kansas City Stockyards, large industrial buildings now remain as reminders of the past—and indicators of what's to come, as many now house residents and retailers.
First Friday Weekends and the Festival of the Full Moon begin around the same time as First Fridays (roughly 5 p.m.) and last through Sunday. Storefronts such as Good Ju Ju, Bella Patina and Nook and Cranny KC open doors early on Friday to reveal undiscovered treasures, including vintage and antique goods. With that in mind, it's the general atmosphere—at once hip and quirky—that draws people from all over.
Quench Your Thirst and Quell Your Hunger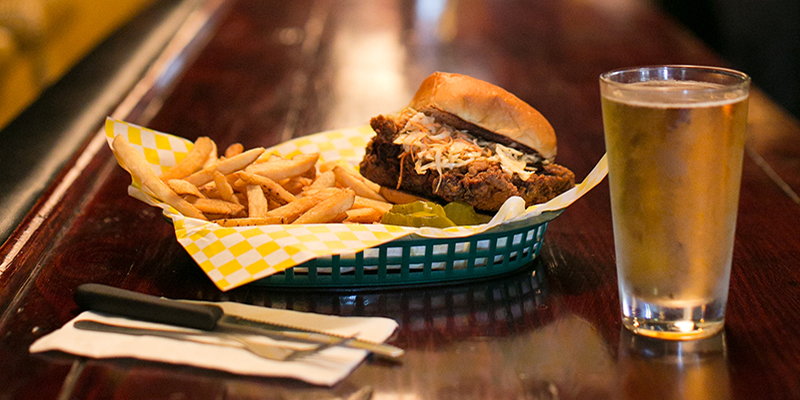 Brunch is key during the Festival of the Full Moon in the West Bottoms thanks to Voltaire, a unique bistro offering craft cocktails and globally-inspired small plates, and EJ's Urban Eatery, a meat-and-three Southern-style restaurant known for daily specials and big portions. Retro-cool hangout spot Lucky Boys has you covered for dinner on Friday or Saturday with a limited-but-delicious menu of comfort food favorites.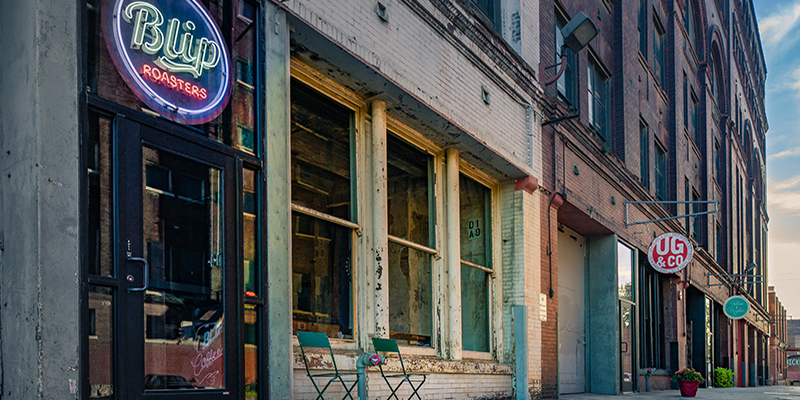 Caffeinate at local roaster Blip for a pick-me-up—and a sample of Kansas City's motorcycle culture.
Housed in the former Golden Ox restaurant space, Stockyards Brewing Co. retains the spirit of the iconic steakhouse as well as the district's history with the brewery's bar and taproom, where guests toast to a diverse offering of Bottoms-inspired beers.
Wine more to your liking? Try out Amigoni Urban Winery for tours, tastings and even wine blending classes. While you're there, explore the historic space, as every building has a story to tell in the West Bottoms. To get a taste of Prohibition-era nightlife, drop anchor at The Ship, a local favorite with speakeasy style.
Parking and More
Street parking can be limited during the Festival of the Full Moon in the West Bottoms, but plenty of space is available within a short walk of many of the hotspots, usually for less than $10.