Dining at KC barbecue restaurants is an experience unlike any other, including everything from lines out the door and upscale service to extremely forward greetings of "Hi, may I help you?"
Dining
Old-school joints will have you ordering at the counter while others have long since swapped the line out the door with white tablecloth and upscale service. Either way, the barbecue itself remains part of Kansas City's classic cuisine.
How It's Served
KC restaurants have made it easier than ever to order barbecue served to your specifications:
By the pound: Perfect for to-go orders and large groups looking to share.
Specialty sandwiches: For those who have ever wondered what an onion ring in a brisket sandwich tastes like (hint: it's delicious).
Platters: Just pile it on there, sides and all.
Combos: When you can't decide between pulled pork and burnt ends, just get both.
How to Order
Newcomers to the Barbecue Capital of the World need to know the ins and outs of ordering KC 'cue before they step up to place their order. Not to fret—with these insider tips, you'll be chowing down like a local in no time.
Arrive Early – Not every restaurant touts a line that runs out the door, but understand that the quickest way to satisfy your salivating taste buds is to show up early.
Speak Like a Local – Some favorites, like Gates Bar-B-Q, operate using a special language. You won't need a translator, but get comfortable using phrases like "beef on bun" and "Z-Man" (a signature sandwich at Joe's Kansas City, melding brisket, provolone and an onion ring).
Order Burnt Ends – A KC rite of passage, this charred specialty was once given away for free while people waited in line at Arthur Bryant's. Now, it's the smoky, juicy delicacy that's become a staple of KC's barbecue culture.
Traditions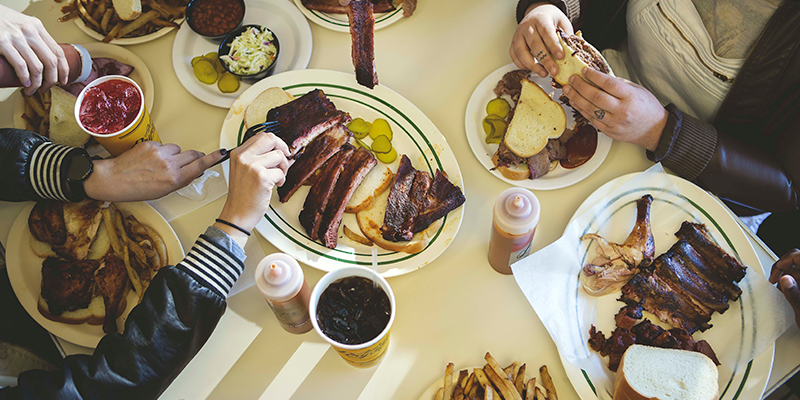 While no single restaurant can be determined "best in Kansas City," there are a few tried and true traditions that everyone agrees on:
Burnt Ends: The smoky, crispy-yet-juicy dish cut from the brisket tip has been a KC staple since Arthur Bryant's started passing pieces out for free while customers waited in line.
Red Soda: Strawberry-flavored or red cream soda, the most old-school spots feature this accompaniment to barbecue delicacy.
Pickles and White Bread: You don't even have to ask; most places just give these away. Perfect for sopping sauce and adding acidic bite to sandwiches.
Sauce: A molasses or tomato-centric sauce is a Kansas City mainstay. Each joint serves it differently, either on the side or right on top.
Trophy Cases?
Yup, trophy cases. Plenty of area joints get their start on the competition circuit, and when they find award-winning success, parlay that buzz into renowned restaurants where they can showcase their hard-earned hardware for all to admire.
Sides
To some, the sides may very well be the star of their barbecue meal. More often than not, these dishes provide the perfect complement to an already near-perfect meal.
Favorites include:
Baked beans
Coleslaw
French fries
Sweet potato fries
Cheesy corn
Potato salad
Mac and cheese
Onion rings
Cheesy grits
Jambalaya
Learn the Lingo
What may seem obvious to locals could be totally foreign to visitors. Below, you'll find a compilation of oft-heard but potentially baffling terms and orders:
Beef on Bun: Short-hand speech is preferred when ordering at Gates Bar-B-Q.
Bark: Crunchy, chewy crust that forms on the outside of smoked meat.
Smoke Ring: The pink ring found just under the bark produced from a chemical reaction between the meat's pigment and smoking gases.
Rib Tips: The short section of meat that is removed from ribs to produce a more even cut.
Kansas Caviar: A side dish consisting of corn, carrots, lima beans and more.
Pig Snoot Sandwich: Yeah, it's definitely what you think it is.