Kansas City Barbecue as Seen on TV 
A barbecue culture as iconic as Kansas City's is sure to inspire a handful of living legends known around the country. Thanks to high-profile features on travel and food television, there's no shortage of celebrity smokers in KC, from old-school classics to modern marvels—each featured in the KC BBQ Experience app's As Seen on TV trail.
Get to know each before tracking them down during your barbecue exploits.
The Trail
Joe's Kansas City Bar-B-Que
As seen on … No Reservations (CNN) and Man v. Food (Travel Channel)
One of the most popular barbecue spots in town also happens to be one of the most filmed: Joe's Kansas City Bar-B-Que. But don't be fooled by its distinct gas station setting—the smoking is no joke behind the counter.
Arrive early and treat yourself to a classic Z-Man sandwich (sliced brisket or portabella if you prefer, topped with smoked provolone, crispy fried onion rings and sauce). If the timing is right, order burnt ends, a local delicacy that are only available a few days per week. As Bourdain put it, "It's the best barbecue in Kansas City, which makes it the best barbecue in the world."
Woodyard Bar-B-Que
As seen on … No Reservations (CNN) and Diners, Drive-Ins and Dives (Food Network)
A favorite of Guy Fieri and the late Anthony Bourdain, Woodyard Bar-B-Que is a longtime KCK establishment that keeps it casual with its informal seating, no-frills menu and outdoor smoker setup.
Perfect for patio dining, Woodyard also touts burnt end chili, which is about as delicious as it gets, no matter the outdoor temperature. After sampling the ribs, Fieri stated in typical Guy fashion, "That is one of the most righteous rubs I've ever had."
Q39
As seen on … Chopped: Grill Masters (Food Network)
Competition-style 'cue is the name of the game at Q39, a much-frequented spot on 39th Street West and in Lenexa. Hot and fast is the way they smoke it here, and diners can count on a wide variety of meats, sandwiches and sides, as well as a refined cocktail and craft beer menu.
Reservations are recommended at Q39, as the place fills up quick thanks to high demand and buzzy popularity. Try it for yourself and see why it deserved a spot on Chopped: Grill Masters.
B.B.'s Lawnside BBQ
As seen on … No Reservations (CNN) and Diners, Drive-Ins and Dives (Food Network)
There's hardly a more harmonious combo than blues and barbecue, a dynamic duo that's showcased at B.B.'s Lawnside BBQ Tuesday through Sunday, with live shows running throughout the week.
Situate yourself among friends and soon-to-be friends in the communal-style seating and enjoy barbecue alongside Cajun add-ons such as jambalaya, gumbo, goulash and red beans & rice. Order the BBQ sundae (a three-layered 'cue concoction) and the burnt ends to eat like Guy Fieri.
Smokin' Guns BBQ
As seen on … Diners, Drive-Ins and Dives (Food Network)
Head up to North Kansas City to check Smokin' Guns BBQ off your list. As with many other barbecue restaurants, this spot—which made its debut in 2003—has award-winning competition cooking embedded in its culture.
There's a little something for all meat-eaters in Smokin' Guns, from sausage and pulled pork to brisket, ribs, burnt ends and more. And don't forget the sides, which run the gamut from traditional options like beans and fries to mac & cheese bites and broccoli casserole. 
RJ's Bob-Be-Que Shack
As seen on … Diners, Drive-Ins and Dives (Food Network)
Located in Mission, Kan., RJ's Bob-Be-Que Shack has built a passionate following of fans who love its laid-back vibes and varied assortment of smoked offerings.
Several celebrity standouts are worth note on the menu, including Denver cut lamb ribs, brisket steak soup, burnt ends and the jalapeno sausage appetizer, which is made with ground pork butt and is smoked in a corn husk for a one-of-a-kind starter. It was such a hit with Fieri that he stated, "I'm going to politely tell you that I'll be ripping off the sausage corn husk idea."
Char Bar
As seen on … Burgers, Brew & 'Que (Food Network)
Westport's resident barbecue joint is also one of the most popular hangs in the city thanks to an expansive patio that comes complete with yard games like bocce ball, croquet, ping pong and more.
The games didn't take center stage however, during an episode of Food Network's Burgers, Brew & 'Cue, which showcased the crunchy, slow-smoked burnt ends served up daily by Char Bar.
Jones Bar-B-Q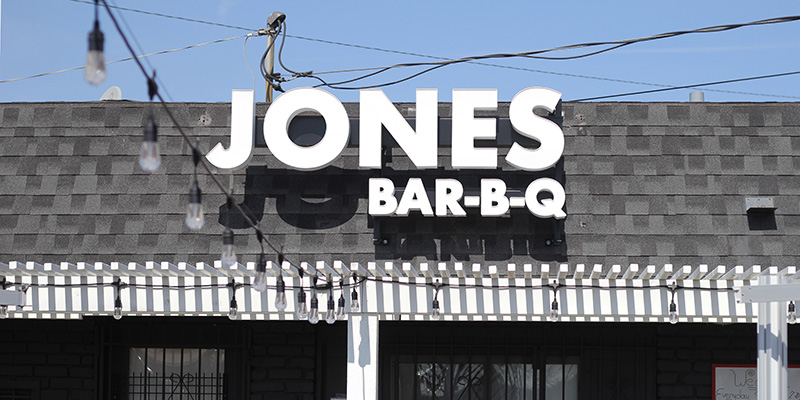 As seen on ... Queer Eye (Netflix)
Undoubtedly the breakout stars of season 3, sisters Mary and Deborah of Jones Bar-B-Q have received longstanding local recognition as Kansas City's only female barbecue pitmasters.
With a little help from the Fab 5, their renovated digs and newly bottled sauce have the Jones sisters' popularity skyrocketing.