Kansas City's Convention Package
With an expansive convention center in the heart of the city, major hotel brands, recent lodging renovations and modern travel throughout the Downtown corridor—not to mention stunning cuisine, swinging jazz, one-of-a-kind museums, a thriving arts scene and luxury retail—it's clear that Kansas City is the capital of the New Midwest.
Discover Kansas City's tremendous convention package:
Kansas City Convention Center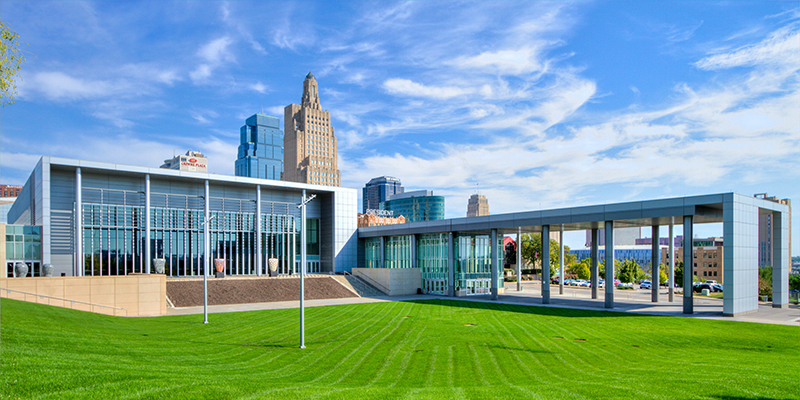 A sprawling, eight-square-block facility, the Kansas City Convention Center is a state-of-the-art facility that can accommodate everything from largescale tradeshows to expansive sporting events, all under a single roof. The center offers:
800,000 square feet of total space
388,800 square feet of contiguous, column-free space
46,484-square-foot Grand Ballroom (largest green ballroom in the United States)
45 modern meeting rooms
2,400-seat fine arts theater
10,000-seat arena
Two outdoor festival plazas
More than 1,000 parking spots
Even better, the Kansas City Convention Center is in the middle of the action, meaning event attendees are steps or a KC Streetcar ride away from their next meeting, keynote or exhibit—and after-hours entertainment.
Hotels
Kansas City touts more than 36,000 rooms in the five-county metro, with major brands including Marriott, Hilton, Westin, Sheraton, InterContinental and Loews (2020), as well as boutique properties like 21c Museum Hotel, Hotel Indigo and the Crossroads Hotel.
The Downtown convention core tallies more than 4,600 committable rooms in all, each within walking distance or a free KC Streetcar ride from the Kansas City Convention Center and Sprint Center.
Stay up to date with the latest in hotel development, including recent additions and renovations.
Transportation
The Kansas City International Airport services hundreds of nonstop flights to and from more than 50 destinations, both domestic and international. A new single terminal will debut at KCI in 2023 with elevated amenities and experiences fit for modern travelers.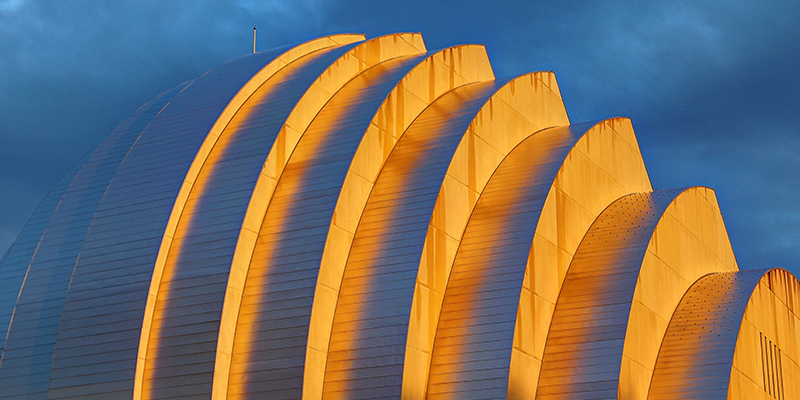 Reachable by more than 55 million people within a day's drive, Kansas City also offers a middle-of-the-map location that resides a three-hour plane trip from either coast.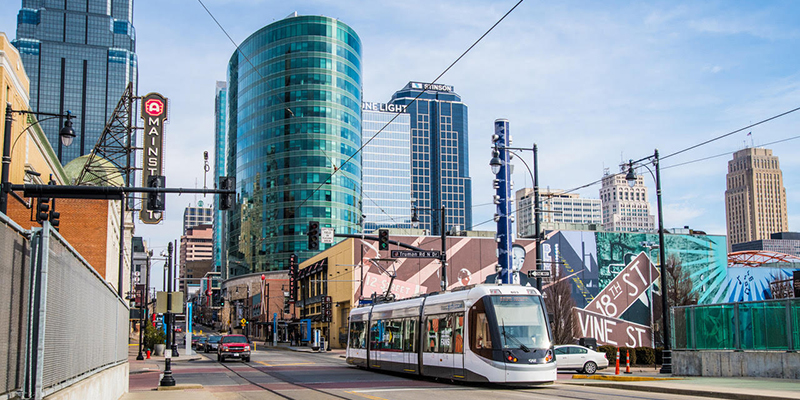 When visitors arrive in the Downtown Convention District, they can travel easily and conveniently using the Wi-Fi equipped KC Streetcar, which includes 16 different stops from River Market through the Power & Light District and Union Station/Crown Center.
After Hours
There's a new energy in Kansas City, one led by a burgeoning arts scene, cutting-edge culinary trends, iconic museums and a culture-defining jazz heritage that still thrives today. Experience The New Midwest in KC, the capital at the center of it all.
Attendees celebrate jobs well done in the Power & Light District, where late-night karaoke and client-friendly restaurants are anything but typical. Just down the road, groups can find galleries, street art, craft breweries and more in the adjacent Crossroads Arts District.
At Crown Center, visitors can explore and eat, shop and stay in the complete entertainment destination. Meanwhile, the Country Club Plaza is Kansas City's premier shopping hotspot—and an essential KC experience, featuring 15 city blocks of Spanish-inspired architecture with dozens of iconic fountains, 100-plus shops and 25 restaurants.
New and Upcoming Developments
Kansas City's Unique Convention Districts