Ask The Concierge: Alexa Bustamante of 21c Museum Hotel
---
Interview by Kim Mueller
So, you want to make the most of your visit to Kansas City, but don't know where to start? We've got you covered. In this series, we've nabbed the inside scoop from a KC expert: your local concierge.
After working three years at The Raphael Hotel at the Country Club Plaza, Alexa Bustamante recently joined 21c Museum Hotel, formerly the historic Savoy Hotel and Grill, where she helps visitors find interesting places to dine, shop and play while Downtown. Here are Alexa's top picks:
DINE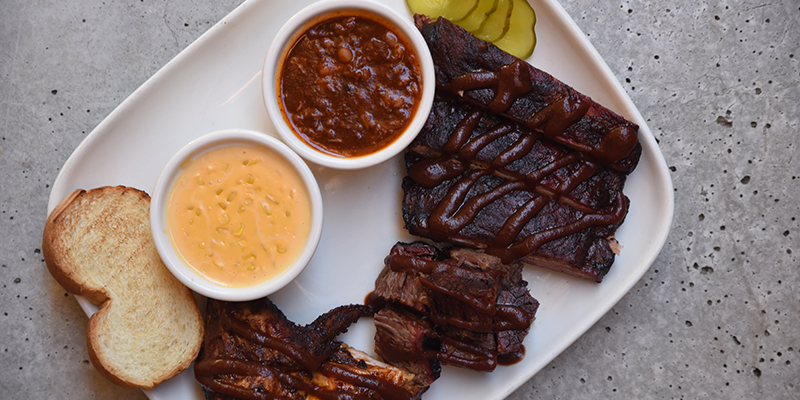 I do love our burger here at The Savoy—the cream sauce on it is so fabulous. But it's Kansas City, so I recommend barbecue. I love Fiorella's Jack Stack Barbecue—their food quality and portion sizes are really reasonable. The wings are fantastic, the brisket is really good. My personal favorite are the burnt ends. Really crispy on the outside and really juicy on the inside.
Their service is fantastic and super casual. You can go in there in your jeans and T-shirt, which is why I like it because they get our downhome personality. When you come to Kansas City that Midwest kindness is a real thing. And you really feel that at Jack Stack. It's a local favorite.
I usually recommend people take the KC Streetcar down to Union Station and just walk up to Jack Stack. It's pretty easy to get to, and then you can visit Union Station.
Fiorella's Jack Stack Barbecue Freight House, 101 W 22nd St., #300, 816-472-7427
Shop
The Power & Light District is always going to be a good choice for shopping Downtown.
The Garment District Boutique in Power & Light has clothing, but it also serves wine. It has locally designed women's clothing and sell mostly casual wear, like blouses, jeans and T-shirts.
Garment District Boutique, 1350 Main Street, 816-221-4387
Play
Another good recommendation is the Green Lady Lounge. I like when people get to experience the real Kansas City feel, and jazz is part of KC's history. The Green Lady Lounge really brings that out; the ambiance is just fantastic, it has perfect acoustics for listening to jazz and the blues, too.
I love that they have music every day of the week and they don't have a cover charge, plus several jazz bands that play there consistently. No matter what day you are coming in, the Green Lady Lounge will have something for you to listen to.
Green Lady Lounge, 1809 Grand Blvd, 816-215-2954