Celebrate 2022 Black History Month in Kansas City
Black History Month, also known as African American History Month, is a national celebration that recognizes the accomplishments of Black Americans throughout American history. Locally, this celebration recognizes the countless African Americans who shaped KC's cultural institutions, from chronicling their participation in the Great War to the founding of the Negro National League in 1920.
Past, present and future, the African American community is vital to Kansas City's story. Below is list of special celebrations in February and ongoing exhibits that commemorate KC's rich Black history.
SPECIAL EVENTS AND EXHIBITS
Through April – The Soul of Jazz: An American Adventure | With guidance from the creative minds behind Disney and Pixar's "Soul", embark on a brilliant and historical jazz journey at the American Jazz Museum. First introduced in The American Adventure at EPCOT and open in Kansas City through April, "The Soul of Jazz: An American Adventure" takes visitors on a rich exploration of the genre's roots and cultural influences.
For more information, visit americanjazzmuseum.org.
Feb. 24 – Setting the Stage: The Moving Story of African American Dance | Setting the Stage is a visual journey through African American dance history. Setting the Stage is performed by talented local and national artists demonstrating the evolution of American dance styles since the Middle Passage and chronicles historically important dancers and choreographers including Katherine Dunham and Alvin Ailey. 7 p.m. The Gem Theater.
For more information, visit kcfaa.org.
Feb. 6 – Community Remembrance Project |

Dr. Carmaletta Williams, executive director of the Black Archives of Mid-America, discusses her work with the Equal Justice Initiative in memorializing victims of racial violence in Missouri by gathering soil samples from sites of killings and erecting historical markers. She also explores the ways these memorials can promote community healing.

Feb. 8 –

Raise a Fist, Take a Knee

| Although the country's history is filled with moments of activism from individual athletes, pro sports continue to perpetuate racial inequality in many ways. Sports journalist John Feinstein examines the mixed legacy and continued role of race in professional American sports during a discussion of his book Raise a Fist, Take a Knee: Race and the Illusion of Progress in Modern Sports.
For more information on these events or to RSVP, go to kclibrary.org.
Kauffman Center for Performing Arts
Feb. 4-5 – Störling Dance Theater's UNDERGROUND |

Celebrate Störling Dance Theater's 25th anniversary with the story of the Underground Railroad presented as never before. Times vary. Tickets start at $30.

For more information or to purchase tickets, visit kauffmancenter.org.
All events are online.
Feb. 1 – The Tuskegee Airman Show | Tune in for this virtual event that features a magic show along with a look at the Tuskegee Airmen, the first African American military aviators in the U.S. Armed Forces, and their lasting legacy.
Feb. 4 – Underground Railroad: The Who, What, and Where Did It Go | Join cultural historian Brother John for insights on the secret codes, symbols and songs of the Underground Railroad, along with an examination of this chapter in American history.
Feb. 5 – Brother John's African Folktales | Fables and characters delivered by Brother John promise to entertain and educate in an interactive setting.
Feb. 8 – The Underground Railroad on the Western Frontier | Hear little-known stories of freedom-seeking slaves from Missouri who walked across the state line to Kansas and found an established Underground Railroad system waiting.
Feb. 8 – African American Genealogical Research for Beginners | Learn about the various record sources and Kansas City-area repositories that could lead you to discover your African American ancestors with local historian and veteran genealogy researcher David W. Jackson.
Feb. 17 – Negro League Baseball: The Deep Roots of African Americans in America's Great Game | Author Kevin L. Mitchell illuminates the rich history of Negro League baseball and shows how it overcame many obstacles to have a lasting impact on professional baseball.
Feb. 17 | Art, Race, and Thomas Hart Benton | Thomas Hart Benton was one of the first artists to paint African American life, labor, culture and inequality. This challenging program explores Benton's attitudes towards race, especially compared to the time in which he was working. Warning: Some of the images and topics may be uncomfortable for some viewers.
All events listed are free. For more info, visit mymcpl.org.
Throughout February – Visit the museum for free all month long, as the Kansas City Royals and Royals Charities are covering admission for the month of February. There are plenty of reasons to visit right now: A monumental day in December set the stage for a banner year at the Negro Leagues Baseball Museum as Negro League legend and Kansas City leader Buck O'Neil was named to the Baseball Hall of Fame in Cooperstown. A first baseman and manager for the Kansas City Monarchs, the first African American coach in Major League Baseball, and founder and chairman of the Negro Leagues Baseball Museum, Buck's legacy will be celebrated with a series of events planned by the NLBM throughout the year. Until then, get acquainted with his trailblazing history— as well as the stories of Negro Leaguer Minnie Miñoso and early Black baseball star Bud Fowler, also elected to the Hall of Fame in 2021— through the Negro Leagues Baseball Museum's exhibits.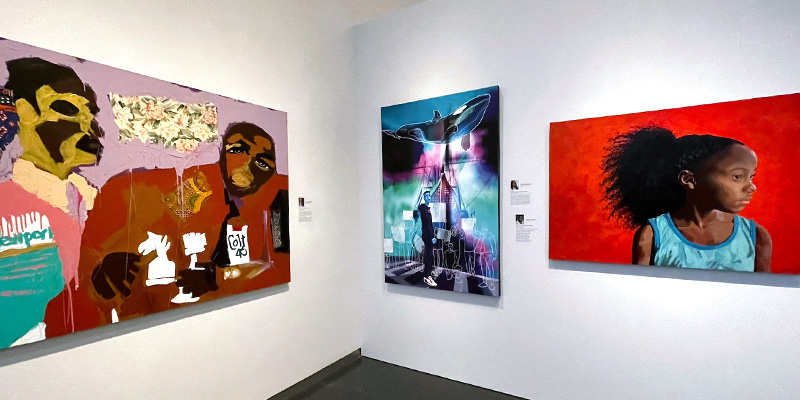 The Nelson-Atkins Museum of Art
Through March 27 – Testimony: African American Artists Collective | A collaboration between the Kansas City-based African American Artists Collective and The Nelson-Atkins Museum of Art features the works, perspectives and testimonies of 35 local AAAC members expressed in a range of media. The exhibit embodies the reciprocal powers of authentically speaking one's truth and being called to stand in witness. Founded in Kansas City in 2014, the work of the African American Artists Collective is focused on supporting and advocating for African American and Black artists locally, regionally and nationally.
Feb. 26 – I Want to Testify | A special performance by the Kansas City Friends of Alvin Ailey, choreographed by KCFAA Chief Artistic Officer and Testimony featured artist Tyrone Aiken. 2 p.m. Atkins Auditorium.
For more information, visit nelson-atkins.org.
AVAILABLE YEAR-ROUND
The American Jazz Museum, located in the 18th & Vine Historic Jazz District, where jazz masters such as Charlie Parker, Count Basie and hundreds of others defined the sounds of the 1920s, '30s and '40s in Kansas City. The museum includes interactive exhibits and educational programs. americanjazzmuseum.org
Hundreds of historic images as well as notable collections of civil rights activists, the Buffalo soldiers and more are available online through the Black Archives digital gallery. blackarchives.org
Kemper Museum of Contemporary Art
Best known for his portraits of jazz performers, fellow artists and other creative individuals, Frederick James Brown created Kemper Museum's monumental work The History of Art (1994/2000), a series of 110 paintings that line the walls of Café Sebastienne. The exhibition features paintings from the Kemper Museum's permanent collection, a significant holder of the artist's works. kemperart.org
The Library offers numerous resources to learn about black history, including several online databases that include African American History Online; Black Thought and Culture; Slavery and Anti-Slavery and Slavery, Abolition & Social Justice, 1490-2007. mymcpl.org/blackhistory
More than 100 years old, the Mutual Musicians Foundation can be found in the 18th & Vine Historic Jazz District. The Foundation was originally home to the Black Musicians' Protective Union Local 627 American Federation of Musicians. This national historic landmark hosts fierce late-night jam sessions on Fridays and Saturdays.  thefoundationjamson.org
National WWI Museum and Memorial
Online – Make Way for Democracy! | This online exhibition portrays the lives of African Americans during the war through a series of rare images, documents and objects. The exhibit was created in partnership with the Google Cultural Institute and explores efforts to redefine citizenship, while improving social, political and economic conditions.
Ongoing | The permanent museum exhibit showcases African American men serving in cavalry, infantry, signal, medical, engineer and artillery units, as well as serving as chaplains, surveyors, truck drivers, chemists and intelligence officers. African American women are also highlighted, as many were employed in several war industries, including munitions production. theworldwar.org
A frequent stop for visiting dignitaries and celebrities, the Negro Leagues Baseball Museum celebrates the 100th anniversary of the founding of the Negro National League—the country's first successful organized black baseball league. Enjoy special programming, new exhibits and more starting February through November. nlbm.com
Located on the Missouri River, Quindaro began as a boomtown and evolved into a stop on the Underground Railroad. Artifacts are on display at the Wyandotte County Museum. wycokck.org