Three Stop Hop is a series from Recommended Daily and Visit KC that lets you experience a neighborhood or corner of the city in three unique stops. Make your way through the popular and pedestrian-friendly East Crossroads, where you'll take your pick of playful decor and decadent plates.
Stop 1: Hutch
You may have life goals, but you need to have living room goals. Light spills across the entire white-walled space of Hutch, a furniture and home design shop that came to Kansas City in June 2018. The store is a blend of modern and classic design, a nod to the beginnings of Hutch five years ago as a vintage furniture seller in Omaha, Neb.
Locally made poster frames, along with pieces that fit inside those frames, are near the front of the store, where a neon sign proclaims "you deserve it." There are leather couches to get lost in and rainbow-colored matches that will make you realize that you've been doing matches all wrong. The store has a series of living room set-ups, which mix light-colored wood and brass light fixtures and blue chairs in ways that offer inspiration that will last beyond this visit. The pieces of furniture and glassware are conversation pieces. Hutch is a place where you learn that your date loves candles or has strong opinions about a coat rack. It's also a testament to the value of taste.
In the back of the store sits a succulent bar, a place where you get to design your own take-home gift. You pick your pot and plant and then accessorize with rocks. There's an art to this craft and the staff can help if you're not sure where to start. Wherever you end up, your living room will thank you.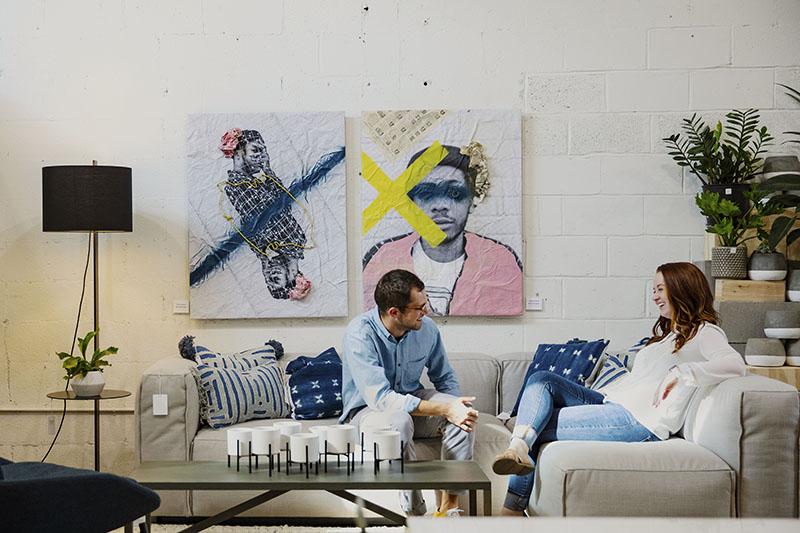 Hutch | 1735 Locust St. | hutchmodern.com
Stop 2: Lifted Spirits Distillery
Less than two blocks away, Lifted Spirits Distillery is a spot where you can toast to your new plant roommate or discover an unusual spirit: absinthe. The anise-flavored, green spirit is served from a fountain on warm wood tables or at the bar. Inside the Crossroads distillery, which opened in 2016, you get to help make your drink.
First, you place a small spoon and sugar cube over the rim of your glass with absinthe. Then, you turn the spigot slowly on the glass fountain to let ice water drip out onto the sugar. The absinthe will turn cloudy, what's called louching, and slowly change color from emerald to a light, bright green. Next, you use the spoon to stir the sugar, water and absinthe together. This ritual is not only fun, it helps to release the aroma and herbs inside the spirit. Lifted Spirits uses spearmint, peppermint, hibiscus and chamomile to round out the strength of the high-proof alcohol.
If you're interested in something more familiar, the distillery also makes vodka, bright gin (made with hibiscus, elderberries and orange zest, among other botanicals) and wheat whiskey, serving classic cocktails from behind the scratch bar tucked into a corner. You can take a tour of the distillery (Thursday through Sunday,) which is just off of the tasting room. Here, you'll learn more about why you might love a Gimlet or Bloody Mary.
Lifted Spirits Distillery | 1734 Cherry St. | liftedspiritskc.com
Stop 3: Novel
A short walk or scooter ride away is Novel, the new American restaurant from chef Ryan Brazeal and pastry chef Jessica Brazeal. You'll want to linger at the horseshoe bar, but you'll find yourself pulled into the long banquet that runs beneath a series of black and white tile murals of nature scenes.
Novel moved from the Westside to the Crossroads in 2018 and with that move came a reimagining of its menu to reflect a larger dining room and more streamlined approach on the part of chef Brazeal. Start your meal with a take on avocado toast renamed "pork toast." Braised, breaded, and fried pork shoulder, belly, and ham, find a willing match in the creamy avocado and smoky tomato hoisin sauce.
The restaurant's reputation, which was built on serving off cuts of meat, is still present in the pasta dishes where beef cheek and sweetbreads are nestled into housemade tagliatelle or pillowy ravioli. The entrees work like a steakhouse, pan roasted halibut and a dry-aged Duroc pork chop come with à la carte sides like crispy fried potatoes or a cornmeal okra with a punchy chipotle-lime mayo. Save room for dessert—Jessica Brazeal offers playful ice cream flavors like cream cheese sorbet or a lush banana bourbon cream cake.
Novel | 1927 McGee St. | novelkc.com