Kansas City Celebrates 2018 Black History Month
---
Black History Month is a national celebration that recognizes the achievements and countless contributions of African-Americans throughout the history of the United States. Locally, this celebration pays tribute to African-Americans who helped shape KC's cultural institutions, from the founding of the Negro National League in 1920 to a stop on the Underground Railroad.
Past, present and future, the African-American community is vital to Kansas City's story. Below is list of special celebrations in February and ongoing exhibits that commemorate KC's rich black history.
Special Exhibits/Performances
Feb. 2 – Jazz Storytelling: Featuring internationally renowned cast, vocalist Lisa Henry, storyteller Brother John, bassist Tyrone Clark and drummer Michael Warren, this event introduces children to new music and cultures. Held the first Friday of every month. Free. 10 a.m.
Feb. 2 – First Fridays on the Vine: A cultural experience of music, art, food and shopping—all on the Vine. Free. 4 p.m.
Feb. 26 – 17th Annual Spencer Cave Black History Month Lecture Series with NYU Associate Professor Michael Dinwiddie: Professor Dinwiddie will deliver a lecture on the career of James Reese Europe and his impact on jazz in Europe during World War I. This event is in partnership with Park University, National Archives at Kansas City, Negro Leagues Baseball Museum and the Greater Kansas City Black History Study Group. Free. 7 p.m. RSVP.
For full list of events or for more information, call 816-842-1414 or visit americanjazzmuseum.org.
Feb. 17 – 2018 Black History Month Luncheon: This annual fundraiser features congressman Andre Carson as the keynote speaker. Carson was elected to serve the 7th congressional district in 2008. He is also the ranking member on the Emerging Threats Subcommittee on the House Permanent Select Committee on Intelligence and is a rising member of House leadership Pierson Auditorium on the UMKC Campus. Tickets begin at $50. 11:30 a.m.
For more information, to RSVP or purchase tickets, go to blackarchives.org or call 816-221-1600.
Bruce R. Watkins Cultural Heritage Center and Museum
Through March 10 – The Art Of My Life: Created by visual artist and Kansas City native Essex Garner, "The Art Of My Life" is the newest exhibit on display at Bruce R. Watkins. This exhibition features inspiring oil and watercolor paintings on African-American life. Free.
Jan. 23 – Our Fathers: Making Black Men: Former Kansas City Star columnist and editorial board member Lewis Diuguid pays tribute in his book "Our Fathers," looking at his father's pursuit of the American dream and devotion to helping black youths and families in his segregated neighborhood. Free. Begins at 6:30 p.m. at the Central Library.
Feb. 8 – Race and Meaning: The African-American Experience in Missouri: Author Gary Kremer discusses his book, a collection of his scholarly articles, which examines the journey of Missouri's African-Americans—from their transition from slavery to freedom to life in all-black rural communities and the search for opportunities in the state's cities. 6 p.m. reception, 6:30 program. Plaza Branch.
Feb. 9 – Brother John Duo: Kansas City storytellers and musicians "Brother John" Anderson and Rick Cole explore the history and sounds of swing jazz, spotlighting music of legendary artists from Louis Armstrong to Cab Calloway. Free. Begins at 6:30 p.m. at the Plaza branch.
Feb. 10 – "Tell Them We Are Rising": This 2017 documentary charts African-Americans from Martin Luther King, Jr., to Thurgood Marshall and Spike Lee and the pivotal role they have played in American history, culture and national identity. The Library and KCPT – Kansas City PBS screen the film as part of the Indie Lens Pop-Up community cinema initiative. Co-presented by KCPT-Kansas City PBS and the University of Missouri-Kansas City. Free. Begins at 2 p.m. at the Plaza branch.
February – Tuesday Night Film Series: To celebrate Black History Month, the library is screening three documentaries tackling serious issues of race, justice and the political divide—plus one comedy to lighten the mood. Free. Central branch. 6:30 p.m. Feb. 6 – "I Am Not Your Negro," PG-13. Feb. 13 – "13th," PG-13. Feb. 20 – "Spanish Lake," Rated G. Feb. 27 – "Dope," Rated R. RSVP
To RSVP for any event listed, go to kclibrary.org.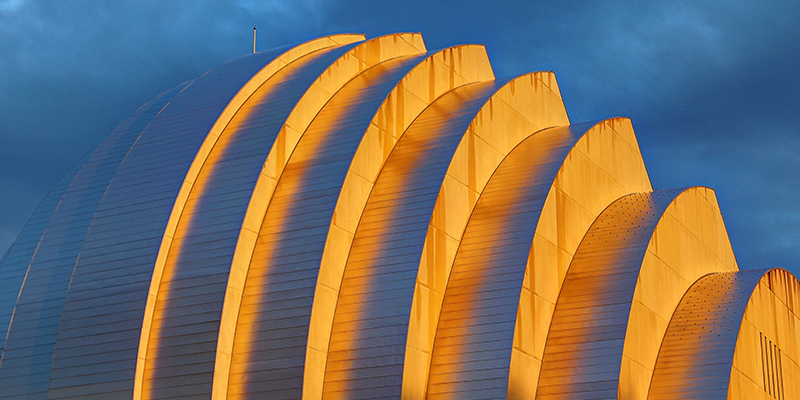 Kauffman Center for Performing Arts
Feb. 9 – Dance Theatre of Harlem: Harlem is one of America's most important cultural centers, and there is no better advocate of the Harlem spirit than Dance Theatre of Harlem. Presenter: Harriman-Jewell Series. 7:30 p.m. Tickets start at $31.50.
Feb. 9-11 – A Tribute to Kansas City Jazz: From Basie to Bebop featuring Bobby Watson: The Kansas City Symphony pays tribute to Kansas City's homegrown jazz musicians and timeless tunes. Special appearances by vocalists David Basse and Deborah Brown, trumpet player Hermon Mehari and Chuck Haddix, the producer of KCUR's "Fish Fry." Performances Friday and Saturday at 8 p.m. and 2 p.m. on Sunday. Tickets start at $46.50 Tickets can be purchased here.
Feb. 16-17 – Störling Dance Theater's "Underground": Celebrate Störling Dance Theater's 1111th Anniversary of presenting the story of the Underground Railroad told like never before. Tickets start at $25. 7:30 p.m. Tickets can be purchased here.
Kemper Museum of Contemporary Art
Through April 29 – Nkame: A Retrospective of Cuban Printmaker Belkis Ayón: This exhibit is the first in the U.S. dedicated to the work of Afro-Cuban visual artist Belkis Ayón, who mined the founding myth of the Afro-Cuban fraternal society, Abakuá.
Permanent – Best known for his portraits of jazz performers, fellow artists and other creative individuals, Frederick James Brown created the Kemper Museum's monumental work, "The History of Art" (1994/2000), a series of 110 paintings that lines the walls of Café Sebastienne. The exhibition features paintings from the Kemper Museum's permanent collection, a significant holder of the artist's works.
All events listed are free. For full list of events, black history online resources, or for more info, go to mymcpl.org/events/black-history-month.
Available Year-Round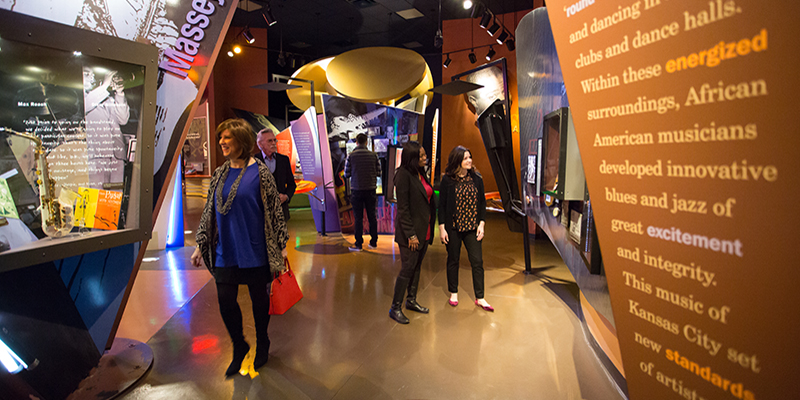 American Jazz Museum
The American Jazz Museum, located in the 18th & Vine Historic Jazz District, where jazz masters such as Charlie Parker, Count Basie and hundreds of others defined the sounds of the 1920s, '30s and '40s in Kansas City. The museum includes interactive exhibits and educational programs.
The Library offers numerous resources to learn about black history, including several online databases that include African-American History Online; Black Through and Culture; Slavery and Anti-Slavery and Slavery, Abolition & Social Justice, 1490-2007. 
More than 100 years old, the Mutual Musicians Foundation can be found in the 18th & Vine Historic Jazz District. The Foundation was originally home to the Black Musicians' Protective Union Local 627 American Federation of Musicians. This national historic landmark hosts fierce late-night jam sessions on Fridays and Saturdays.
National World War I Museum and Memorial
Online – Make Way for Democracy! This online exhibition portrays the lives of African-Americans during the war through a series of rare images, documents and objects. The exhibit was created in partnership with the Google Cultural Institute and explores efforts to redefine citizenship, while improving social, political and economic conditions. 
Ongoing – The permanent museum exhibit showcases African-American men serving in cavalry, infantry, signal, medical, engineer and artillery units, as well as serving as chaplains, surveyors, truck drivers, chemists and intelligence officers. African-American women are also highlighted, as many were employed in a number of war industries, including munitions production.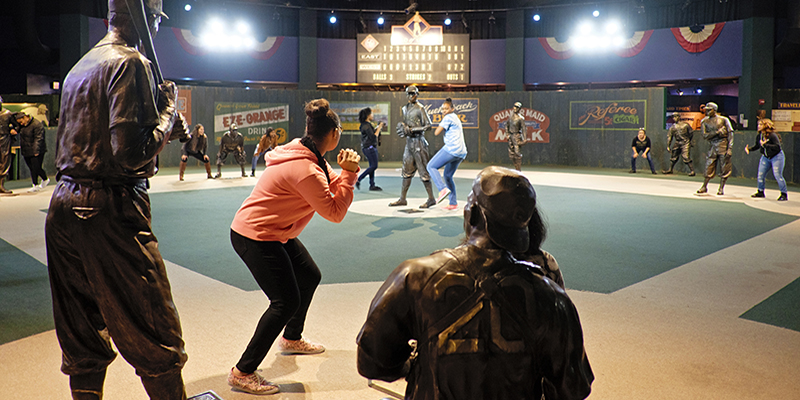 The 10,000-square-foot multimedia exhibit is the world's only museum that chronicles the history and heroes of the Negro Leagues from their origin after the Civil War to their demise in the 1960s. 
Located on the Missouri River, Quindaro began as a boomtown and evolved into a stop on the Underground Railroad. Artifacts are on display at the Wyandotte County Museum.
The Nelson-Atkins Museum of Art
Ongoing – "Goodnight Irene": View this Charles White painting that once belonged to legendary performer and activist Harry Belafonte, which has been acquired for the permanent American collection. This acquisition highlights The Nelson's seminal works of African-American art.
Permanent – The museum's acclaimed African collection comprises approximately 300 objects that are diverse in form and in media. Masks, sculptures, hair combs, headrests, textiles and vessels are among the many types of works represented; media include fiber, metal, wood, beads and clay.