Barbecue in Kansas City is more than a menu item or a method of preparation. It's an institution, rich with history and culinary tradition that shapes the city's dining landscape every day—and has since the early 1900s. For decades, visitors from across the globe have traveled here, drawn in by its smoky aroma, just to get a sample of KC's acclaimed cuisine.
Here's everything you need to know about barbecue in Kansas City:
Barbecue Beginnings
Kansas City's barbecue craze can be traced back to Henry Perry, who, in the early 1920s, began barbecuing in an outdoor pit adjacent to his streetcar barn, serving slabs of food wrapped in newspaper. Perry's 'cue became so popular that fans began imitating his technique and style to create their own unique recipes.
The second wave of barbecue pioneers were the families of Bryant, Gates, Boyd, Harris, Fiorella and Thompson—three of which are familiar names that remain emblazoned on still-thriving restaurants. Kansas City had earned a reputation as a renowned stockyard and meat-packing city by the '30s and '40s, making it the ideal migration destination for pitmasters in search of work. Together, their distinctive tastes, talents and flair laid the groundwork for an unprecedented, eclectic barbecue culture that's recognized on a global scale.
Now, Kansas City barbecue enthusiasts can satisfy their cravings at more than 100 mouth-watering restaurants dotted around the metro. There's even the Kansas City Barbeque Society, an organization dedicated to promoting and sustaining the cuisine worldwide.
Longtime Local Favorites
As the saying goes, ask two Kansas Citians for their favorite barbecue restaurant and you'll get three different answers. With profound passion and undeniably delicious offerings, it's hard to pick just one. Thankfully, there's plenty of room in the city's collective appetite to savor establishments of all kinds. Some of the longtime favorites include:
The 18th & Vine classic, Arthur Bryant's Barbecue, is a legendary hotspot for every barbecue lover.
Gates Bar-B-Q, a Kansas City original known for its trademark greeting, "Hi, may I help you?"
Joe's Kansas City Bar-B-Que is nationally celebrated—and rightfully so. Gas station 'cue never tasted so good.
Featured in countless TV shows, B.B.'s Lawnside Bar-B-Q touts live blues, friendly faces and a smoker more than 60 years old.
One look at the smoker behind the counter at LC's Bar-B-Q reveals why this eastside restaurant has been an institution in the Kansas City community.
More upscale tastes await at Fiorella's Jack Stack Barbecue, a local chain known for its expansive menu.
See Our Full List of Can't-Miss KC Barbecue Joints
Barbecue Innovations
Kansas City's rich barbecue culture has inspired chefs for decades. In recent years, innovative kitchens have been smoking up their own variations on KC classics: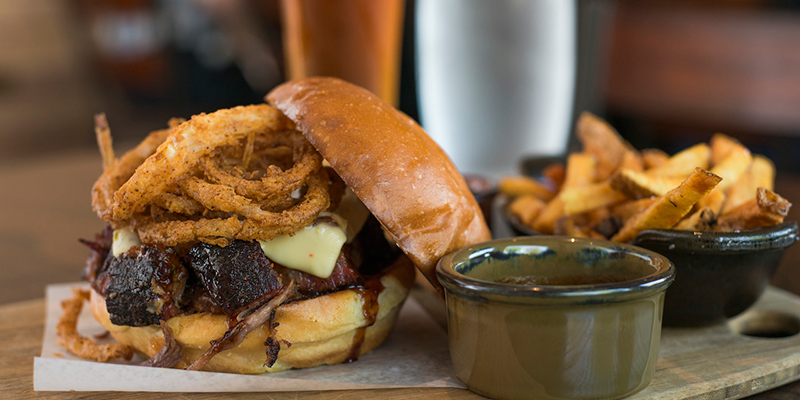 At Q39, one of the hottest restaurants in the region, wood-fire grilling adds another layer of flavor to already-appetizing bites.
Burnt end hash is totally a thing, and the culinary wizards at Rye prove that KC's delicacy perfects just about any dish. In fact, burnt ends can be found at restaurants all throughout the metro, traditional barbecue spot or not.
Looking for something meatless? One of Char Bar's most popular sandwiches—The JackKnife—is centered around smoked jackfruit, a vegetarian- and vegan-friendly ingredient with a taste and texture nearest to pulled pork. 
Festivals and Competitions
Whether determining the smokiest sauce, most mouthwatering ribs or any number of cuisine-specific categories, part of the spirit of 'cuing in KC is friendly competition—meaning Kansas City's calendar is full of barbecue festivals, tournaments and more.
Recognized as the biggest barbecue contest and celebration in the world, The American Royal World Series of Barbecue welcomes more than 500 local, national and international teams for two weeks of spirited smoking each fall.
Other popular contests include:
Great Lenexa BBQ Battle
KC Kosher BBQ Championship
NKC Missouri State BBQ Championship
Sam's Club National BBQ Tour
An Unrivaled Heritage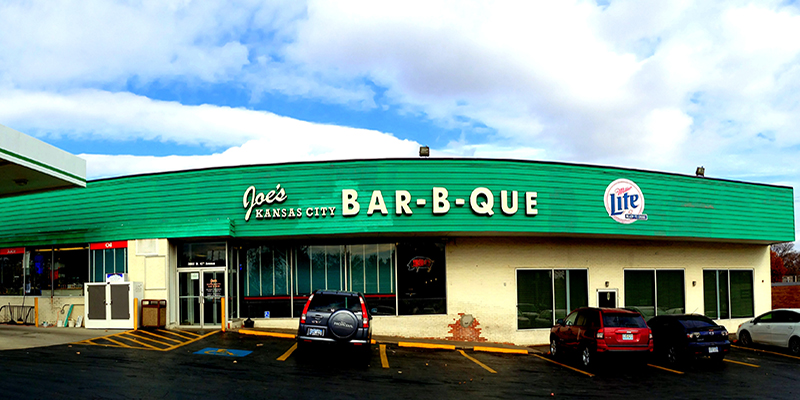 No matter how you cook or slice it up, Kansas City is deeply rooted in the global barbecue consciousness. And there's nowhere else on earth that offers such a unique, diverse and delicious love of barbecue that draws folks from all over the world.
How to Order KC Barbecue
Arrive Early – Not every restaurant touts a line that runs out the door, but understand that the quickest way to satisfy your salivating taste buds is to show up early.
Speak Like a Local – Some favorites, like Gates Bar-B-Q, operate using a special language. You won't need a translator, but get comfortable using phrases like "beef on bun" and "Z-Man" (a signature sandwich at Joe's Kansas City, melding brisket, provolone and an onion ring).
Order Burnt Ends – A KC rite of passage, this charred specialty was once given away for free while people waited in line at Arthur Bryant's. Now, it's the smoky, juicy delicacy that's become a staple of KC's barbecue culture.
Speak Easy: A Visit KC Podcast
The Past, Present and Future of Kansas City Barbecue with Ardie Davis
Ardie Davis, better known by many for his larger-than-life, 'cue-themed alias, Remus Powers Ph.B., knows a thing or two about barbecue. He invented the American Royal's Sauce Competition, has authored 12 books on the topic and he's in the Barbecue Hall of Fame. We picked some bones together and talked KC-style smokin', regionalism and what's next for the cuisine.