Interview by Kim Mueller
So, you want to make the most of your visit to Kansas City, but don't know where to start? We've got you covered. In this series, we've nabbed the inside scoop from a KC expert: your local concierge.
For the last 25+ years, Rita Medina has been handing out tips to visitors while working as the concierge for The Westin Kansas City at Crown Center. Here are Rita's top picks:
DINE
I love Novel. It is a great representation of Kansas City's award-winning chefs; they are one of my top 10 places to recommend.
The last time I was there, I had a good sweetbread, which is totally out of my comfort zone. But I was pleasantly surprised.
Novel also has a great dessert menu. I had the chocolate torte because I am a sucker for pistachio ice cream. They were quite generous and gave me an extra scoop on the side. It was to die for.
Novel, 1927 McGee St., 816-221-0785
SHOP
One of the best places to shop is right here in Crown Center. It is perfect. It has three levels, and Halls Kansas City. They have great sales and great styles.
You can buy everything at Halls, from makeup to clothes to souvenirs, plus books and tableware unique to Kansas City. And chocolate! (Andre's Confiserie Suisse and Christopher Elbow). They even carry Frances Valentine handbags designed by Kate Spade.
And you don't have to worry about taking your purchases back on the plane. Crown Center's Customer Service on the second level will ship it straight to your home.
PLAY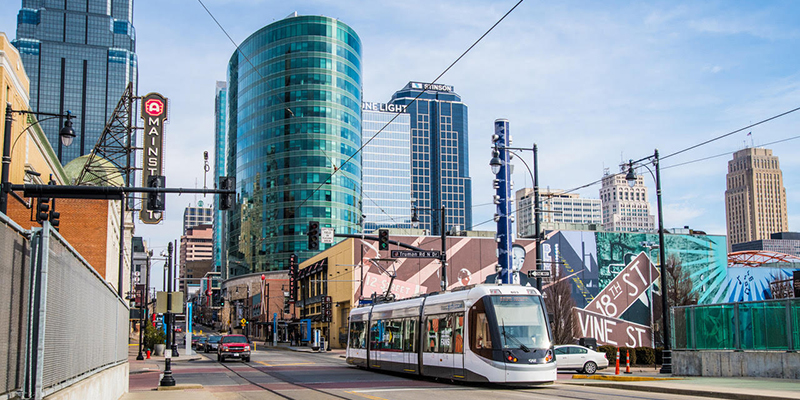 The KC Streetcar is so much fun to hop on and off. And it's free. You just can't go wrong with that four-letter word. People are amazed that something so cool and so sleek doesn't cost a penny.
The Streetcar is a great way to explore the city. I took it all the way down and all the way back on my first ride. You can go to restaurants at the Power & Light District or the pubs for happy hour or the River Market to see the Arabia Steamboat Museum.
You can also go to Sprint Center for a special event or even just go to the Kansas City Public Library to look at the books. It's just so much fun.