Ask the Concierge: Eric Curry and Quinton Griffin of Hotel Indigo-Downtown
---
Interview by Kim Mueller
So, you want to make the most of your visit to Kansas City, but don't know where to start? We've got you covered. In this series, we've nabbed the inside scoop from the KC experts: your local concierges.
Eric Curry and Quinton Griffin work the front desk at the Hotel Indigo-Downtown. The dynamic duo had more than two decades of combined experience in the hospitality industry before joining the hotel at 101 West 11th Street, one of two properties for the brand that opened in KC's Downtown area in 2018.
Here are Eric and Quinton's top picks:
DINE
Quinton: I'm easy. I like The Majestic's porterhouse steak, a baked potato and the asparagus. You can't miss with that. The Majestic's got a cool vibe. It feels like a speakeasy with the live music. A lot of people don't know the live jazz is downstairs and they miss it—don't miss it!
Eric: I always recommend reservations. And I always try to do the oysters. They do them just right. They bring them out to you already chilled on ice so you can take your time with them.
The Majestic Restaurant and Jazz Club, 931 Broadway Blvd., 816-221-1888
Shop
Eric: If you want local things, like souvenirs or T-shirts, you need to go to Made in KC. That's where we get our shirts. It's right around the corner and they have great pastries and coffee. But if you want to "shop" shop, you need to go to the Country Club Plaza.
Quinton: You will definitely shop 'til you drop down there.
Made in KC Café, 1114 Baltimore Ave, 816-585-2459
Country Club Plaza, 47th and Broadway, 816-753-0100
Play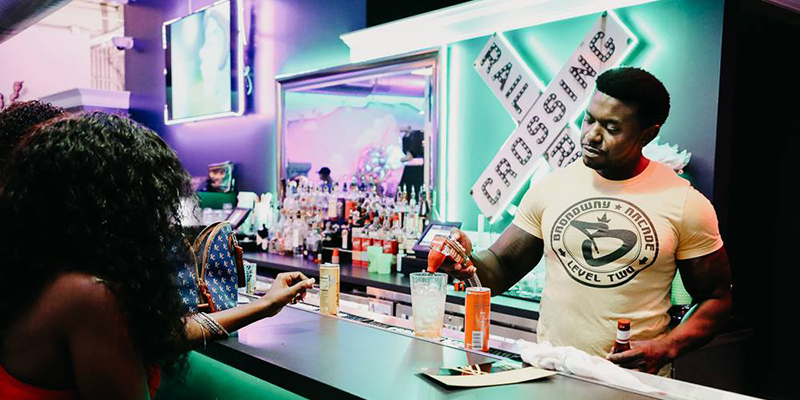 Eric: If you're just in town for the night, The Garment House definitely is the place we point people of all ages to go. From the outside, it just looks like this glass building. But when you walk in you just get hit with the "wow" factor and great service.
The third floor is where your live music is going to be. They play all types of music.
Quinton: It's got the live music, the restaurant and the arcade. You can't miss going there.
The Garment House, 1000 Broadway Blvd., ​816-600-0707