Keep Cool with KC Ice Cream, Shaved Ice and More
---
Whether enjoying the warmer months or in need of a tropical getaway, Kansas City ice cream shops, shaved ice and chilled drinks will keep you cool regardless of the time of year.
Here are some of the most popular local sweet treats in KC:
Betty Rae's Ice Cream
Funky flavors, notable collaborations, house-made waffle cones and lines out the door define this local gem.
Miami Ice
Much more than a clever name, this bright 39th Street shop serves scoops, shaved ice and other frozen drinks.
Paleteria Tropicana
Plan on natural popsicles, fruit smoothies and churros at this Southwest Boulevard staple with several additional locations throughout the metro.
Glacé Artisan Ice Cream
Famed KC chocolatier Christopher Elbow's ice cream side hustle deserves acclaim all on its own thanks to unique seasonal flavors and all-natural ingredients.
Foo's Frozen Custard
Nestled in both Brookside and Leawood, this concrete-serving frozen custard joint has been a favorite since 1988. 
Winstead's
Sundaes and banana splits are the usual at this old-school diner, but real ice cream champions buddy up to take down the Skyscraper Shake, a towering confectionary concoction.
Clinton's Soda Fountain
Treat yourself at this old-fashioned Independence soda and malt shop where President Harry S. Truman worked as a young boy.
KC Soda Co.
Craft soda meets kooky tastes and hard-to-find brands in this hometown soda shop located in The City Market and Legends Outlets.
Shatto Milk Company
Flavored milk (such as cotton candy or root beer), ice cream or ice cream sandwich, the products made by this local dairy purveyor, which are available in regional grocery stores, are your go-to sweet tooth fix.
Freezing Moo
As fun to watch as delicious it is to eat, this regional chain features Thai fried ice cream rolls in countless flavor combinations.
Sylas and Maddy's Homemade Ice Cream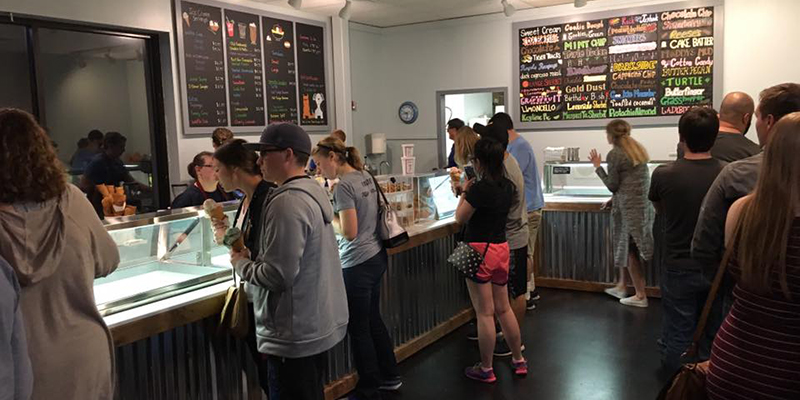 A plethora of fresh-made ice cream options adorn waffle cones (also freshly prepared) at this local favorite that calls Olathe and Lawrence home. 
Westport Ice Cream Bakery
Colorful scoops are abundant in this popular spot that's located right in the heart of Westport—perfect for a post-meal sweet snack.  
From fireworks shows to special events spread throughout the metro, Fourth of July celebrations in KC are sure to knock your American flag socks off.
Consult our go-to guide to Kansas City's coffee shop scene to sample some of the best in the region.