As has been said before, Season 3 of the KC Tap Tour features more breweries—and more beers—than ever. That's a lot to enjoy, particularly for participants visiting from outside the metro and those just now embarking on the Tour. Yet taking down 23 breweries is far less daunting when broken up into manageable bits, even if you only have a month to finish the tour.
Use this handy guide as your template to collect every KC Tap Tour stamp in just 31 days.
---
WEEK 1
If three's company, then five is a full weekend. Start your full month Tap Tour adventure in North Kansas City, where key breweries are just steps from one another:
These easy (and delicious) spots make for essential stamp pickups, and you can knock them all out in one afternoon or evening. If you want to explore NKC a little longer, play a match or two at Chicken N Pickle and enjoy the patio space during the region's crisp fall season.
Spend the next afternoon at the two remaining first-week breweries: Amerisports and 3 Trails, based in The Northland and Independence, respectively.
---
WEEK 2
Your second week on the Tap Tour trail requires decidedly less driving. All it takes is a simple KC Streetcar ride to the Crossroads Arts District (and a few extra steps) and you're smack dab in the middle of the craft beer action.
Start on a Saturday and work your way from east to west, starting with hops outpost Torn Label. From there, venture towards a trinity of breweries all within a stone's throw from one another:
If hunger strikes, grab a bite at Brewery Emperial. Otherwise, earn your final stamp a couple blocks over at Casual Animal.
---
WEEK 3
Another week, another exciting assortment of local breweries to sample. Travel to Lee's Summit—a quick 25-minute drive from Downtown KC—to set up shop in the village's charming Downtown Main Street, home to four KC Tap Tour stops:
Request a pickup from your designated driver or preferred ridesharing service and head to Crane in Raytown, which specializes in sour, fruity beers and also offers much-
---
WEEK 4
Your second to last week requires a bit of navigating the state line. Begin by visiting the Tap Tour's two Kansas-based breweries, Brew Lab in Overland Park and Limitless in Lenexa, both fantastic ways to start the day.
Afterwards, work your way into town, swinging by Martin City, which touts a stellar brewpub menu of pizza, sandwiches and more, plus a sprawling indoor-outdoor setup that's made for great afternoons without a care in the world.
Finally, make your way to family- and dog-friendly KC Bier Co. in Waldo for a taste of German-style taps and tastes.
---
FINAL WEEK
The final week features visits to some of KC's most vibrant neighborhoods.
Westport's Green Room is a cozy establishment that serves up burgers and fries alongside its in-house brews.
Strange Days is the River Market's only brewery, but it's quickly carved out a niche as a must-visit for Kansas City's soccer community thanks to watch parties every weekend.
Explore the hip West Bottoms district to sample suds from the Western-themed Stockyards, located just down the road from the former site of the Kansas City Stock Exchange.
Finish the day (and Tour!) with a trip to the Boulevard Tours & Recreation Center, a magnificent facility where insider looks at the brewing facility, taste tests, shuffleboard and more only enhance the offerings from one of the region's largest craft beer producers.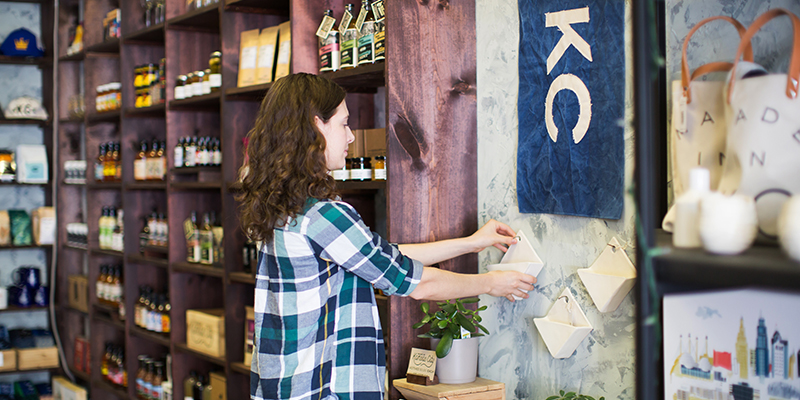 Once you've earned every stamp, don't forget to pick up your coveted prizes by visiting the Made in Kansas City flagship store in the Crossroads.