Image via Facebook.com/theposhkc
By Katy Schamberger
Juggling a busy meeting or convention schedule sometimes makes it difficult to find free time for yourself. Yet with a plethora of relaxation-inducing retreats near major convention and meeting venues, Kansas City makes it easier than ever to carve out a little "you" time to unwind, de-stress and conquer the rest of your schedule with a new burst of energy. Here are seven blissful spots to help you channel your inner Zen. Your only dilemma? Picking which one to try first!
Bliss: One Yoga Class or Float Session Away
Image via Facebook.com/boulevardyogakc
When you think of relaxation, yoga likely comes to mind—and for good reason. Yoga classes are an ideal way to not only build strength, but also quiet racing thoughts and fight stress. At Boulevard Yoga and Healing Arts, choose from a variety of yoga classes, including beginner, vinyasa, chair and deep stretch. Keep the relaxation going with a massage therapy or acupuncture session.
If you love the peaceful sensation of floating in water, you'll want to make a beeline for Floating KC. Inside the Zero Gravity II Float rooms, you'll immerse yourself in a REST (restricted environmental stimulation therapy) environment—a lightless, soundproof tank in which you float in salt water at skin temperature. According to Floating KC, this environment will help lower your brainwave activity into the "dream state" that's attained just before you fall asleep. Afterward, you'll emerge refreshed, alert and with what industry pros call "the post-float glow."
Short on Time? Express Options
Image via Facebook.com/facialbarkc
Seeking a bit of relaxation on a tight schedule? Head to Solaris Massage for one of three 30-minute treatments. Whether you want to focus on a particular trouble spot, ease tension in your head or flee the summer heat with a cold stone session, the Solaris Massage team will be sure to make every relaxation-focused minute count. If you find yourself with more free time, a number of 60- and 90-minute treatments are also available.
Delivering superior, targeted services that don't break the bank—that's the goal at The Facial Bar, which specializes in express, 30-minute facials. Choose from several types of facials, or let the friendly, knowledgeable staff make a personalized recommendation based on your skin type and concerns. Then, kick back in a comfy reclining chair and prepare for bliss as your skin is carefully tended and pampered. One of the best parts? The refreshingly frigid ice globes, which are used to massage your skin toward the end of the facial. The Facial Bar stocks several facial care products, too, so you can maintain your skincare routine anytime. 
Putting the "Om" in Grooming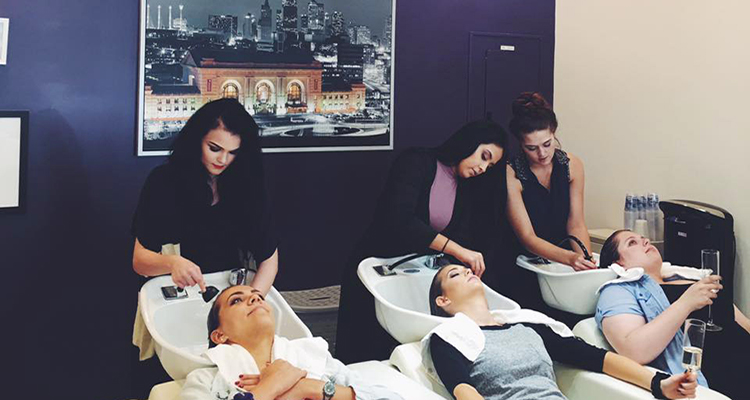 Image via Facebook.com/theposhkc
Sometimes, there's nothing more relaxing or indulgent than getting your hair professionally styled. Inside the chic, stylish interior of Posh KC, Downtown Kansas City's blow dry bar, sip on a glass of bubbly while a stylist works magic on your tresses. Whether you want a basic blow-out or a more intricate up-do, Posh KC makes your #hairgoals a reality. (Just don't forget a post-style selfie tagged with #instakc!)
The classic barbershop: it's a community staple, a place to relax, socialize and, of course, maintain your enviable hairstyle. Buffalo Mane Barber Shop has become a favorite destination in downtown Kansas City for men's and women's haircuts, as well as beard trims, facial waxing, shaves and a hot towel pre-shave facial. A little pampering can go a long way in helping you feel relaxed and at your best. And if that doesn't do the trick, sipping on a little Buffalo Trace bourbon—available during your service—will definitely help keep the stress at bay.
One of the biggest sources of stress while attending an out-of-town meeting or convention is the struggle to maintain healthy eating habits while you're on the go. If you're craving fresh food, stroll or take the KC Streetcar to Simple Science Juices, located just steps away from the southbound Crossroads stop (19th and Main). Grab an organic, cold-pressed juice blend in several varieties, all of which are locally made. Or pick up a healthy on-the-go meal or snack, perfect for maintaining optimal energy levels during your trip. Too strapped for time to get to the shop? Simple Science offers delivery (free for orders over $40), so you can enjoy a delicious, healthy meal in the comfort of your hotel room.