2019 Summer Events and Festivals in KC
---
Kansas City has it all this summer. Notable highlights include high-flying air shows, Shakespeare in the park, a craft beer paradise and a community-wide display of pride, plus so much more. Keep your calendar open for these favorite events, festivals and celebrations of the season.
June
Tumbleweed – May 30-June 1: One of the most renowned and popular traditional country music festivals in the nation, count on camping, canoe trips and all things country at this two-day, three-night event in La Cygne, KS.
Hot Country Nights – May 30-Aug.15 (Weekly): Head to the Power & Light District for live country music shows that never disappoint. Best of all, most performances are free to attend. 
Festa Italiana – May 31-June 2: Eat and drink your way through Italy—no passport required. Italian culture takes center stage in this event at Zona Rosa, which includes food, a beer garden, a car show and novelty booths.
KC PrideFest – May 31-June 2: See why The Advocate named KC PrideFest one of the top 10 LGBTQ festivals in the nation. Throughout the weekend event, celebrate inclusion, diversity and pride with live music and performances from local and national headliners. 
Jazz Walk of Fame – June 1: Pay tribute to Kansas City's iconic sound in this event that honors jazz artists by immortalizing their names in 30-inch bronze medallions embedded in the sidewalks on 18th Street in the historic 18th & Vine Jazz District.
Vaile Strawberry Festival – June 1: The beautiful, historic Vaile Mansion hosts this annual event, which welcomes craft and antique dealers who set up their wares throughout the Independence mansion—and, of course, strawberry treats as you shop.
Zona Rosa Summer Concert Series – June 6-Aug. 10: Enjoy live music showcases at Zona Rosa in the Northland every Thursday, Friday and Saturday through August. 
Jazzoo – June 7: Creative black-tie attire makes for an unlimited number of fashionable photo ops in this annual fundraiser at the Kansas City Zoo. Funds raised support the Zoo Learning Fund and help buy food for animals.
Juneteenth Celebration – June 8: Commemorate the anniversary of the end of slavery in the United States with this event at The Nelson-Atkins Museum of Art that celebrates the contributions of African Americans with special programming, live music, dance performances and more.
Old Shawnee Days – June 8-9: Past meets present during this four-day event that celebrates the history of Shawnee, KS, with attractions including rides, music, games, historical reenactments and crafts.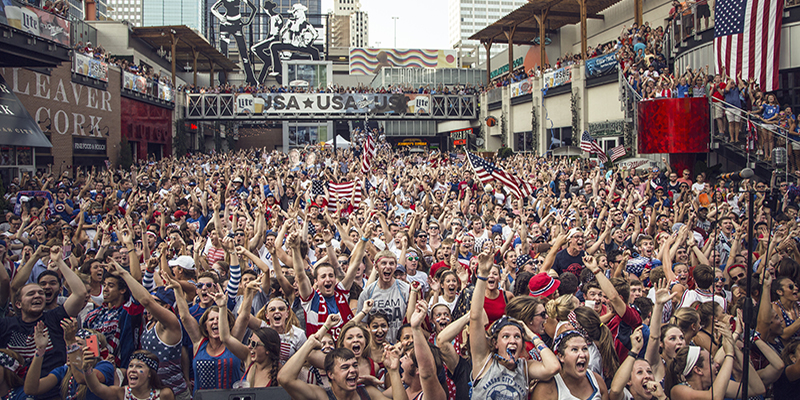 FIFA Women's World Cup Watch Parties – June 11, 16, 20: Pack the house at the KC Live! Block and No Other Pub in the Power & Light District to cheer on the U.S. Women's National Team during this global soccer tournament. 
Heart of America Shakespeare Festival – June 11-July 7: To festival, or not to festival? At the Heart of America Shakespeare Festival, that's not even a question. Each year, count on free performances of a different Shakespearean masterpiece in Southmoreland Park.
Boulevardia – June 14-15: KC's Stockyards District in the West Bottoms transforms into an all-senses destination during this favorite festival hosted by Boulevard Brewing Co., complete with food trucks, concerts, maker booths, a family carnival and, of course, beer stations that offer local, regional and national craft brews.
Crown Center Antique Festival – June 15-16: Dealers and visitors alike agree that this Crown Center festival is one of the top antique shows in the Midwest, thanks in part to a dizzying array of wares ranging from furniture and jewelry to pottery and linens.
Maker Faire Kansas City – June 22-23: Cutting-edge technology combines with more traditional creative pursuits like art and jewelry-making to culminate in a Union Station festival that celebrates creators and makers.
July
KC RiverFest – July 4: Celebrate July Fourth in this festival at Berkley Riverfront Park, which begins with live music, activities and food and concludes with one of the largest fireworks shows in the Midwest.
WeekEnder – July 12-Aug. 9: Cap off your work week with this free event featuring top local bands and favorite food trucks. Then, finish the evening with a famous flick under the stars at Crown Center Square.
Grand Carnivale – July 13-Aug. 4: An immersive new summer experience that invites visitors to celebrate the sights, sounds and tastes from cultures around the globe, including India, China, Italy, France and Germany—all, fittingly, at Worlds of Fun.
KC Fringe Festival – July 14-28: There's no better time to celebrate Kansas City's vibrant creativity than during this showcase of local performing and visual arts.
Rockfest – July 18-20: Gather with 50,000 headbangers at Rockfest, a riotous music festival featuring multiple stages and rock's biggest names.
Amelia Earhart Festival – July 19-20: Head to Atchison, KS, Amelia Earhart's birthplace, for an annual celebration of the aviation icon packed with events, including live music, carnival rides, a food and crafts fair, aerobatic performances and a "Concert in the Sky" fireworks show.
Kansas City's Big Picnic – July 21: All activities and performances are free and ongoing in this annual festival held in The Donald J. Hall Sculpture Park at The Nelson-Atkins.
August
Heart of America Hot Dog Festival – Aug 10: The Negro Leagues Baseball Museum welcomes hot dog aficionados to sample delicious ballpark franks, including the signature Kansas City Monarch Dog, plus live music and admission to the museum.
Ethnic Enrichment Festival – Aug 16-18: KC's diverse cultures unite at this weekend extravaganza that includes food, dancing and music representing dozens of countries, as well as several ethnic groups recognized by the Ethnic Enrichment Committee.
Middle of the Map Fest – Aug. 29-Sept. 2: Immerse yourself in music, films and forums during Middle of the Map Fest, quickly becoming one of Kansas City's favorite local events.
Santa-Cali-Gon Days – Aug. 30-Sept. 2: This Independence festival commemorates the origin of the Santa Fe, California and Oregon trails during westward expansion. Browse more than 500 artisan, craft, food and commercial vendor booths, as well as a carnival, a 5K and more.