Preview: Open Spaces Kansas City
---
Kansas City's newest arts event is a multisensory, cross-cultural experience featuring performers and artists from both around the world and close to home. Get to know the weekslong Open Spaces before it arrives—and prepare to be wowed every step of the way.  
Festival Basics
The multi-month event, which runs Aug. 25 to Oct. 28, will quite literally take over the city with exhibits and performances strategically scattered from rural to urban environments, galleries to public parks—all to showcase the unique makeup of KC's creativity.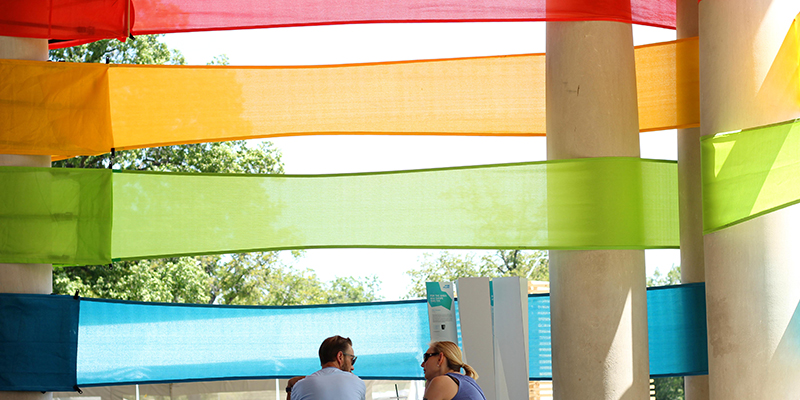 Created in collaboration with several organizations, including the City of Kansas City and area philanthropist Scott Francis, Open Spaces is nine weeks of ever-changing artistic exploration for audiences of every age.
The Event
Open Spaces is divided into four main components: The Exhibition, The Village, The Weekend and The Expanded Field.
The Exhibition: Based in Swope Park, this experience includes more than 40 visual artists with works and installations placed throughout the metro.
The Village: Dance and music performances predominate in this portion of the event, which also includes food, family activities and colorful pavilions and which takes place every weekend.
The Weekend: Engaging performances headline this festival-within-a-festival that takes place at Starlight Theatre. Count on musical superstars Janelle Monáe and The Roots to bring the energy.
The Expanded Field: The pop-up portion of Open Spaces features everything from spoken word poetry to incredible murals, each the concept of local creators.
Getting Around
An event as expansive as Open Spaces means participants get to explore the entirety of Kansas City. Whether you're traveling by KC Streetcar to access dynamic pop-up experiences, ridesharing to high-profile performances at Starlight Theatre or taking a Kansas City Fun Tour trolley ride through Swope Park to marvel at public installations, there's no shortage of ways to get around.
Additional options include: